Vail Valley Foundation pulls plug on free Bud Light Street Beat concert series
Following three years of discussion and restructuring with key partners, including the Town of Vail and Anheuser Busch, the Vail Valley Foundation has decided to bring down the final curtain on Bud Light Street Beat, retiring the 13-year-old free concert series from the nonprofit organization's slate of entertainment events.
"While it is hard for us to let Bud Light Street Beat go," explained Ceil Folz, president of the Vail Valley Foundation, "we, as well as our partners, are convinced that it is the right thing to do. Street Beat was a great addition to Vail Village and really accomplished everything we had all hoped for when it was created."
"We will now be focusing that same mindset and creativity on coming up with new musical concepts that will have an even bigger impact on our community," added Folz, "while also enhancing the musical components surrounding our existing events."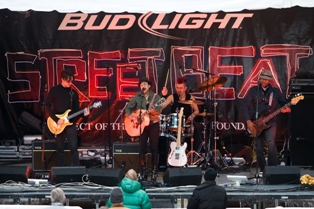 Based on the popular Bud Light Hot Summer Nights summer series at the Gerald R. Ford Amphitheater, the free winter concert series was created in 1999 in an effort to bring locals back in to Vail Village, while also providing a unique experience for guests.
During the 13 years of the series, musical guests included the likes of TajMahal, Everlast, Better than Ezra, Little Feat, the Gin Blossoms, Leon Russell, the Wailers, the BoDeans and Yonder Mountain String Band.
Another popular component of Bud Light Street Beat was the final Grand Prize giveaway, which debuted in the inaugural year with a condominium in East Vail and wrapped up with a new Volvo XC-70.
"We remain extremely committed to providing both our locals and our guests with great musical opportunitiesthroughout the year," Folz offered, "andAnheuser Busch remains a committed and significant partner of the VVF, so we are excited to see what the future holds for us in this arena. Bud Light Street Beat was a great beginning and now we are poised to take the next step."
The Vail Valley Foundation is charged with enriching the Vail Valley and sustaining its unique spirit through the delivery of unparalleled arts, world class athletics and inspiring education programs throughout the community. For additional information on the Foundation, visit www.vvf.org.
---

5 Comments on "Vail Valley Foundation pulls plug on free Bud Light Street Beat concert series"