Third annual Run, Ride, Refresh offers chance to run with Miller, ride with Phillips
The third annual Run, Ride, Refresh event will take place at 2 p.m Saturday (Sept. 29) starting at the Vail Chophouse in LionsHead and offer an opportunity to join a free guided mountain bike ride led by Bicycling magazine's gear editor of 15 years, Matt Phillips, or a trail run led by coach and manager of the U.S. Women's Mountain Running Team, Ellen Miller.
The run and ride will take place on the same loop on Vail Mountain with mountain bikers heading out first. Each loop will be approximately five miles with a vertical gain of just over 1,200 feet and promises spectacular fall foliage, views of the Gore Mountain Range and a beautiful run or ride on Vail Mountain's signature trails, Big Mamba, Lion Down and Hank's Hideaway.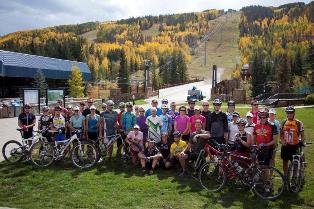 A shorter loop also will be available for the runners who want to enjoy less climbing and mileage. Additionally, participants will receive a free beer after the run from Michelob Ultra and a Run, Ride, Refresh branded goodie bag from Runner's World and Bicycling magazines.

According to Miller, who recently returned from the World Mountain Running Championships in Italy and led the U.S. Women's Mountain Running Team to a gold medal, the event is a spectacular way to feel healthy and enjoy Vail's fall foliage.
"This is the best time of the year to hold an event like this in Vail, closing the summer season and embracing fall," said Miller. "The views are breathtaking, the weather is perfect. I am excited to return for a third year and lead this fun and relaxed run on Vail Mountain."

Following the run and ride, participants will celebrate their accomplishment with a little relaxation on the Vail Chophouse slopeside deck in LionsHead Village in Vail, including a free glass of Michelob Ultra. The Chophouse post-ride event will also provide a unique chance to sit down with Miller and discuss tips and the new trends and technologies in running.
It will also be a great time to discuss the the newest bike gear and training tips with Phillips, who just returned from InterBike, the largest bicycle industry trade show in the country held annually in Las Vegas.
Space is limited for the group run and ride, co-sponsored by Runner's World, Bicycling, Vail Restaurant Month, Vail Chophouse and the Vail Recreation District. Those not able to join the run or ride are welcome to gather at the Vail Chophouse for the post-ride event and enjoy mid-afternoon specials.

Run, Ride, Refresh is part of Vail Restaurant Month's Health and Outdoors Week and will feature entertaining and inspirational events, seminars and dining experiences all tied to healthy living. Great fall lodging packages are available for the "Run-Ride-Refresh" event and throughout Vail Restaurant Month, including the "Gourmet Getaway Package" at the Antlers at Vail: Antlers will credit up to $100 of of the regular room rate toward any activity, meals or even retail purchases made in Vail during the event-- each day. For information and booking, click on the Lodging Packages page at www.VailRestaurantMonth.com.

For more information about Run, Ride, Refresh, contact Ruthie Carlson at ruthie@group970.com, or visit www.VailRestaurantMonth.com. For details on all Vail Recreation District activities, click here.
---

0 Comments on "Third annual Run, Ride, Refresh offers chance to run with Miller, ride with Phillips"
Be the first to comment below.