Vail Mountain Trail Running Series wraps up on Sunday with EverGold
The seventh and final race in the Vail Recreation District's (VRD) La Sportiva Vail Mountain Trail Running Series, the EverGold 11k and 5k presented by Big Delicious Catering , will take place at 10 a.m. Sunday, Sept. 16.
Again this year, the race will begin and end at the Vail Golf Club and runners will traverse along Vail Trail to Golden Peak, up the popular Berry Picker trail, to Lion Down, back to Golden Peak and finish the run on the Vail Trail for a distance just over seven miles. Runners will face an average grade of 10 percent and gain nearly 1,700 feet in elevation throughout the race. Those participating in the 5k will also run on Vail Trail to Golden Peak and then return on Vail Trail to Vail Golf Club.

"2012 has been a great year for the Trail Running Series," said VRD race director Marc Thomas. "We've unrolled some new course routes and have had great participation. The EverGold will be the frosting on the cake."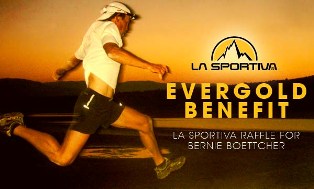 Evergold 2010Individual race costs are $28 for preregistration or $38 on race-day. Registration and additional information are available online by clicking here. Bib pick-up will be available from 2 to 5 p.m. Saturday (9-15) at Christy Sports in Vail Village. Day-of registration will begin at 8:30 a.m. at the race start area located at the Vail Golf Club parking lot. Parking is limited and race participants and spectators are encouraged to carpool to the Vail Golf Club for the race.

Following the race, an end-of-season brunch for running participants will be offered by presenting sponsor Big Delicious Catering at the Vail Golf Club. During the brunch, prizes from La Sportiva and the VRD will be presented to overall and age group winners of the race, as well prizes for series winners. This year's series winners will receive a cool prize for their determination.
Columbia Sportswear will be providing all running participants at each race with it's innovative Omni-Freeze ICE tech T-shirts, a temperature-regulating, super ventilated T-shirt, plus technical clothing for VRD staff, volunteers and medical staff. The Omni-Freeze ICE® shirts each runner will receive capitalizes on sweat to lower the fabric temperature, creating an immediate cooling sensation. When a runner gets hot, it gets cool. Additionally, with UPF 50 sun protection, quick-wicking fabric and antimicrobial treatment, the shirts have the ultimate technology to ensure each runner stays dry, cool and protected.
Joining 2012 series title sponsor La Sportiva and presenting sponsor Columbia Sportswear, are Vail Resorts, Beaver Creek Resort Company, FirstBank of Vail, Vail's Mountain Haus, Apex Dental, Central Rockies Mortgage, Big Delicious Catering, SmartWool, Tiga Advertising, Howard Head Sports Medicine Centers, Steadman Clinic, Gatorade, KZYR, Road ID, Dusty Boot, Trek Light, Optic Nerve and Camelbak. Photos of the 2012 race series are available by going to www.mcclarrinonphotography.com.
For more information on the race, click here or call 970-479-2280.
---

0 Comments on "Vail Mountain Trail Running Series wraps up on Sunday with EverGold "
Be the first to comment below.