Beaver Creek Blast to determine season-long champions in VRD's Athletic Club at the Westin Mountain Bike Series
The Beaver Creek Blast, the last race of the Athletic Club at the Westin Mountain Bike Series, takes place at 5:30 p.m. Wednesday, Aug. 29, at the base of Beaver Creek Mountain.
The after party, at the Dusty Boot in Beaver Creek following the race, will include the much-anticipated announcement of the series champions, both individual category winners and teams, as well as the newly-created Golden Pick Award, which recognizes outstanding contributions to the upkeep of mountain bike trails.
The 2012 season brought other new additions to the popular local race series, including the reinvention of the Camp Hale bike race - now called the Camp Hale Hup, which took place in July.
There are 19 adult categories in the race series, ranging from Pros to Clydesdales and Legends, and many category winners will be determined during Wednesday night's race as bikers vie for additional points.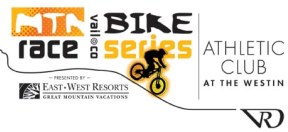 On the eve of the final race, pro racer Jay Henry has a contestable lead of 75 points over Jake Wells. Meanwhile, a mere 15 points separates the top racers in the Men's Expert category, with Ezra Velez at 345 points and Damien Fraser at 330, while the first and second place riders in Men's Vet Sport are only a nail-biting five points apart.
In the Women's arena, Expert racer Jennifer Razee leads by only 15 points over Tracey Head, and top Vet Expert riders, Roxanne Hall and Dawn Vogeler are only 20 points apart.
"Beaver Creek Blast will be the most exciting race of the year - just because there's so much at stake," said race director Beth Pappas. "All these athletes have been working their tails off all year, and it's always really interesting when it comes down to the very last race to determine the category winner."
Wednesday night also will determine the team winners with Pedal Power/Gorsuch (at 7,005 points) battling incumbent Dusty Boot/ Mountain Pedaler (at 6,365 points) for possession of the coveted Golden Wheel (the symbol of team dominance in the race series). With 3,420 points, Yeti's Grind currently has a comfortable hold on third.
Despite the anticipation of seeing so many close competitions play out, Pappas says she and the other folks at VRD are looking forward to awarding the Golden Pick, a new addition to the series.
"We introduced the Golden Pick this year in collaboration with the Hardscrabble Trails Coalition and Vail Valley Mountain Bike Association to encourage everyone to take ownership of the trails we love so much," said Pappas. "We're hoping it's introduced people to how important and how much fun trail work is."
Wednesday's Beaver Creek Blast is the final of Vail Recreation District's (VRD) seven-race series, which is presented by East West Resorts and Vail Valley Medical Center, and has taken mountain bike racers on courses throughout Eagle County including in Eagle, 4 Eagle Ranch and on Vail and Beaver Creek Mountains. The series ran in tandem with the Larkburger Mountain Bike Youth Series, which offered racing opportunities for kids ages eight to 17.
Individual race costs are $25 for preregistration or $35 on race-day, until 5:30 p.m. Registration is available by clicking here. The Beaver Creek Blast races will begin at 5:30 p.m. at Centennial Chair at Beaver Creek starting with the Larkburger Youth Series for riders ages 8 to 14, followed by all adult race categories at 5:32 p.m. Venture Sports in Avon is the official shop of the Beaver Creek Blast and will be onsite at the start to provide neutral support for racers with last minute mechanical issues.
The last after party of the year and a huge, end-of-season raffle including an Ellsworth bike frame, Street Swell long board, a party at Bol, greens fees to the Vail Golf Club and more, as well as the series awards ceremony, will take place at Dusty Boot in Beaver Creek Village following Wednesday's race. The after party also will include a dinner provided by Beaver Creek Resort Company for racers.
In addition to the Athletic Club at the Westin, East West Resorts and the Vail Valley Medical Center, sponsors of the 2012 races include Under Armour, Dusty Boot, Bud Light, FirstBank of Vail, Vail Resorts, Inc., Beaver Creek Resort Company, Aberle Investment Management, Apex Dental, Central Rockies Mortgage, KZYR, Honeystinger, Ellsworth Bicycles, HESTRA Gloves, Camelbak, POC, Optic Nerve, Street Swell, Outdoor Technology, Rocky Mountain Reprographics, Vail Honeywagon, Zino Restaurant and The Steadman Clinic. The 2012 Youth Series is presented by Larkburger and KIDsport. Photos of the 2012 race series were taken by Scott McClarrinon and are available by going to www.mcclarrinonphotography.com.
Registration, course maps and other information are available by clicking here or calling 970-479-2280. For information on all other VRD programs and activities, click here or call 970-479-2279.
---

0 Comments on "Beaver Creek Blast to determine season-long champions in VRD's Athletic Club at the Westin Mountain Bike Series"
Be the first to comment below.