Vail Recreation District's KEEN Vail Kids Adventure Race set for Sunday on Vail Mountain
This Sunday, Aug. 12, more than 220 children ages six to 12 will navigate an adventure course in Vail Village and on Vail Mountain that will include a mud pit, a low ropes course, a zip line, a giant slope-n-slide, tubing and more during the Vail Recreation District's (VRD) KEEN Vail Kids Adventure Race. The challenging competition will offer exciting opportunities for spectators to share in the excitement at easy-to-access locations throughout Vail.
"I've volunteered for this race since it started," said Juanita Jahnigen, who comes to Vail from Castle Rock, Colo., every year to get in on the Kids Adventure Race action. "I love watching this race because it's so fun - the kids are all adorable, and they are really challenging themselves. Plus, it's a good feeling to be able to cheer them on."
The race is sold out with a waiting list, but children and adults who want to share in Sunday's excitement will have ample spectator opportunities from locations all over Vail Village and Vail Mountain.While the exact route and the specific challenges the kids will face will not be revealed until just before the competition start, spectators can check out the action at any of these key spots: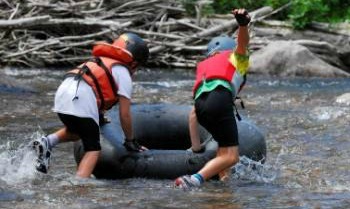 Golden Peak at the base of Vail Mountain will be abuzz with activity throughout the event as teams set off and return to their staging areas between challenges. Young racers will be getting outfitted with gear for their next sport and racing off again.
From Mountain Plaza sports fans can access (by foot) several different exciting activities, including the giant slope-n-slide, located on Pepi's Face on Vail Mountain.
A number of spectator friendly challenges will take place around Ford Park and the Betty Ford Alpine Gardens.
Watch the tubing challenge from anywhere along the bank of the Gore Creek in between the Vail Valley Drive (behind Vail Mountain Lodge) to International Bridge.
Watch children throughout Vail Village and Golden Peak who may be passing by on bicycles or on foot to the corner of Gore Creek Drive and Bridge Street where racers will tackle the rock climbing wall.
At 2 p.m. Larkspur at Golden Peak will host the after party and awards ceremony where all race participants receive burgers and a certificate to recognize them for their accomplishments. Winners of each age group will climb onto the winners' podium and receive a medal and a raffle for all participants will conclude the day.
"Adventure Racing is a thrilling sport," said course designer Billy Mattison, a former professional adventure racer. "It combines physical and mental challenges, teamwork and good-natured competition - and just as importantly, it's a lot of fun. We're excited to watch the kids grow by challenging themselves."
The KEEN Vail Kids Adventure Race has been received so enthusiastically over the two years since its inception, that most of the new activities offered this year to accommodate the growing event are sold-out with wait lists. The skills workshops, offered on Saturday to Adventure Race participants, are already packed, however the first ever KidSport Strider Cup (a race for kids ages two through five on balance bikes) is still open for registration. The Strider Cup is free and requires kids to use their own no-pedal bicycle and helmet. Registration is limited to 50 participants, and available on a first-come, first-served basis. Registration is available by going to www.vailkidsadventurerace.com. That event will take place at 10 a.m. on Saturday, Aug. 11 on International bridge.
To find out more about the race check, out information on the VRD website at www.vailrec.com or call the race director, Beth Pappas at 970.479.2280 ext. 7009.
---

5 Comments on "Vail Recreation District's KEEN Vail Kids Adventure Race set for Sunday on Vail Mountain"