Warrior Acquisitions takes over Lakota Canyon Golf Club in New Castle
NEW CASTLE, Colo. -- At a time when few companies have been able to close a real estate sale, Warrior Acquisitions, the golf course management arm for Warrior Custom Golf of Irvine, Calif., has managed to take mom and pop courses across the country and put them on the national map. Now Lakota Canyon Golf Club, a favorite of many Vail Valley golfers, is officially part of the firm's growing portfolio, and executives are meeting with the New Castle Town Council next week to introduce themselves.
"We bought Lakota with the goal of making the golf course into something much better than it is today," said Brendan Flaherty, founder and CEO of Warrior. "With an award-winning 18-hole championship golf course, outstanding Rocky Mountain beauty, and an existing real estate development already in place, there is tremendous potential for Lakota. Lakota allows us to expand into the Colorado market, and it has the key features and qualities to become a destination golf resort."
Warrior Custom Golf has developed a national database of clients and players that have come to appreciate the reputation and quality of the Warrior courses and products through its primary business as a leading custom golf club manufacturer.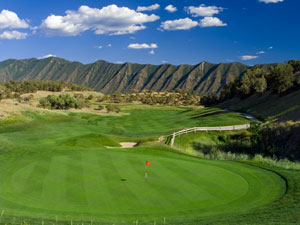 "We plan on promoting Lakota to our national database and anticipate an increase in golf play from Lakota's historic levels as a result of the national following and other creative marketing initiatives we are known for," Flaherty said.
Warrior is one of golf's biggest buyers today but was previously unknown until 2010 when it purchased six courses in two years. The profile of the Warrior Acquisitions portfolio consists of courses that attract cost-conscious players. Plus, the company can throw in incredible promotional perks through its custom club manufacturing expertise
The underlying strategy is that over the long term the golf and real estate markets will rebound and while that process unfolds, according to Flaherty, Warrior can increase play by bringing its golf club customers to these properties along with enticing other golfers with products, services and improved playing conditions to enjoy their courses.
"We are not in this for the short term," Flaherty said. "We feel that as long as we avoid leverage and loans while utilizing the array of assets we have available to us that other course owners don't have, we should achieve a solid return as long as we stay the course."
Flaherty, through his Warrior affiliated entities, has invested nearly $50 million over the past few years in 13 golf properties as well as commercial and residential interests.
Another key to their success has been their ability to avoid the lending market, said Walter Bolen, director of investments at Warrior Acquisitions. The company so far has targeted properties in the $1million to $5 million range, and they expect their investments targets to grow as their experience and capabilities grow.
Go to the Lakota Canyon Golf Club website or call (970) 984-3830 for more information.
Lakota will be Warrior Golf's 13th course. Other courses are: Cimarron Golf Resort, Palm Springs, Calif.; The Club at Runaway Bay and Nacona Hills, both in Texas; Reems Creek, Asheville, N.C., Broadmoor, Asheville, N.C.; Asheboro Country Club, Asheboro, N.C.; Whispering Woods, Pinehurst, N.C.: Heddles Hideaway, Spartanburg, S.C.; Marion Oaks, Ocala, Fla.; Huntington, Ocala, Fla.; Royal St. Augustine, St. Augustine, Fla; and Baneberry Golf Resort, Baneberry, Tenn.

---

0 Comments on "Warrior Acquisitions takes over Lakota Canyon Golf Club in New Castle"
Be the first to comment below.