Beaver Creek Art Festival set for this weekend
An eclectic display of original handmade art will transform Beaver Creek Village into an outdoor art experience Saturday and Sunday, Aug. 4-5, when the Beaver Creek Art Festival returns to the heart of this popular destination.
This celebration of the arts features 200 of the finest artists and crafters in the country as well as top talent from throughout the state of Colorado. Admission is free and open to the public.
"The show celebrates its 25th anniversary this year and we welcome the opportunity to present an art extravaganza with wide appeal," says festival promoter Howard Alan. "Our event is nationally ranked and we strive to maintain high standards, that is why participating artists are selected by a panel of expert judges."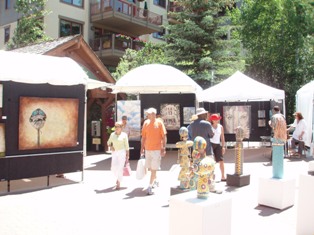 A vast array of artwork will be on display and for sale including bold and vibrant paintings, contemporary and whimsical art, along with southwest themed and inspired creations, life-size sculptures, photography and jewelry. The festival is set-up around the magnificent Beaver Creek Resort located in the Vail Valley, just a few hours from Denver and Aspen.
The artists are hand-selected from hundreds of applicants based on quality and diversity and required to be on site for the duration of the festival, available to discuss their art and inspiration. All of their artwork is original and handmade in America.
The 25th Annual Beaver Creek Art Festival makes the arts accessible to a broad audience. Prices range from $25 hand-designed earrings to $50,000 metal sculptures. The event appeals to people of all ages including families, art enthusiasts, as well as serious art buyers looking to add to their collections
Howard Alan Events, the country's largest producer of award-winning fine outdoor art festivals, returns to Colorado each year at the behest of clients. Introduced to these upscale street fairs in Florida, many asked for this successful festival promoter to come to Colorado with the same high-end quality art by the finest artists in the nation. Now, the Howard Alan Events festivals in Colorado are highly anticipated and include the Downtown Aspen Art Festival, the Downtown Frisco Art Festival, the Boulder Festival of the Arts on 29th Street, the Main Street to the Rockies Art Festival as well as the Annual Beaver Creek Art Festival.
WHAT: 25th Annual Beaver Creek Art Festival
WHEN: August 4 - 5, Saturday & Sunday, 10:00 am – 5:00 pm
WHERE: Beaver Creek Village - Avon, CO
Navigational address: 76 Avondale Lane, Avon, CO 81620
WHY: To Support the Arts and Local Economy
ADMISSION: Free and open to the public
WEBSITE: www.artfestival.com
CONTACT INFORMATION: info@artfestival.com or 561-746-6615
---

10 Comments on "Beaver Creek Art Festival set for this weekend"