Vail Global Energy Forum mixers set for Aug. 8, 15
Launched in 2012, the Vail Valley Foundation's Vail Global Energy Forum is returning for a second year, bringing the world's leading energy experts together to address the world's energy challenges and solutions. To start the conversation for the Forum, which will take place March 1-3, 2013 at the Vilar Performing Arts Center in Beaver Creek and in Vail, two community update mixers will take place in August.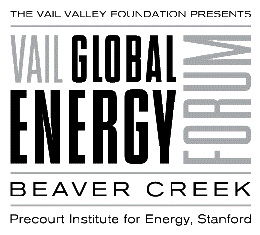 On August 8, interested community members are invited to attend the Vail Global Energy Forum's mixer at The Chophouse in Beaver Creek from 5-6:30 pm. There will also be a mixer in Vail on August 15, at The Frost Bar at the Sebastian Hotel in Vail Village from 5-6:30 pm. Attendees can expect an update on what will be on the agenda for next year's Forum and how they can get tickets, as well as a discussion among local energy leaders on current hot button issues.
The Vail Valley Foundation, in conjunction with Stanford University's Precourt Institute for Energy (PIE), Precourt Energy Efficiency Center (PEEC), and other distinguished partners, are hosting the VGEF for the second time to examine current pressing challenges in meeting the growing demand for clean energy from secure sources at affordable prices, along with new promising innovations.
The VGEF will be open to the public with tickets on sale August 1, 2012 and will take place in Vail and Beaver Creek, CO. more information can be found at www.vailglobalenergyforum.com or by calling 970-845-TIXS.

---

10 Comments on "Vail Global Energy Forum mixers set for Aug. 8, 15"