2012 Teva Mountain Games TV special to air on Channel 7 Sunday
For those who missed the action of Vail's 2012 Teva Mountain Games in June or just didn't get enough of the nation's premier outdoor adventure sporting event, grab the remote control and plan to be in front of your TV set Sunday, July 15, as the one-hour special, produced and nationally syndicated by Jalbert Productions, Inc., will air at 11 a.m. (MDT) on Denver's KMGH-TV, the local ABC affiliate.
"There were so many great stories that comprised this year's Teva Mountain Games," explained Michael Imhof, Vice President of Sales and Operations for the Vail Valley Foundation, "and there is certainly no shortage of exciting action,along thrills and spills in the television show."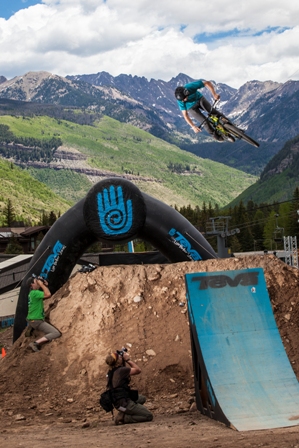 The show will showcase a quartet of cornerstone events, including the Bud Light Lime Steep Creek Championships kayak competition;the TevaSlopestyle bike event, presented by Chipotle; the GNC Ultimate Mountain Challenge and the IFSC Bouldering World Cup.
Other highlights will include the inaugural Gibbon Games Slacklining competition and the always entertaining Eukanuba Dock Dogs canine events, along with the overall mountain lifestyle that is so much a part of the event, including the Bud Light Mountains of Music free concert series.
Jalbert Productions was conceived during the filming of "Downhill Racer", a 1969 feature film, starring Robert Redford, for which Joe Jay Jalbert provided technical direction, stunt skiing and POV camera work. The experience lit a spark in Jalbert and became the impetus to the founding of JPI in 1970.
If you happen to miss the initial show time, a second airing for the Teva Mountain Games show is scheduled for Sunday, August 5, at 1 p.m., also on Denver's KMGH-ABC.
The Teva Mountain Games is a project of the Vail Valley Foundation. For more information on the Mountain Games, visit www.tevamountaingames.com. For additional information on the Vail Valley Foundation, check out www.vvf.org.
---

0 Comments on "2012 Teva Mountain Games TV special to air on Channel 7 Sunday"
Be the first to comment below.