Free guided hikes offered to highlight proposed wilderness areas
Wilderness Workshop is leading a series of hikes this summer into wilderness-quality lands currently being considered for protection by Sen. Mark Udall.
In Eagle County, the hike series begins this weekend with a guided hike on Sunday, June 17 into the West Lake Creek area, outside Avon. That same day there is also a hike in the Seven Castles area near Basalt.
"The wildflowers are beginning to come out, and the backcountry is in all its early summer glory," said Susie Kincade, a local wilderness supporter who is leading the hike in the West Lake Creek area. "These hikes are a great way for people to have a first-hand look at these beautiful wild lands that are being considered for protection."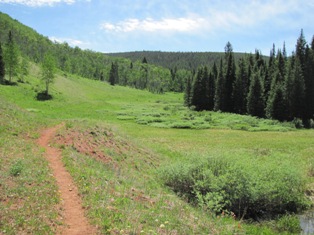 All of the guided hikes throughout summer are free, but people need to register in advance. Hikes are scheduled in Eagle, Summit and Pitkin counties.
To view all the hikes planned this summer — and sign up for the ones you want to go on — log on at www.whiteriverwild.org/p-Hikes-74.html, or e-mail Michael Gorman at michael@wildernessworkshop.org, or call Wilderness Workshop at (970) 963-3977.
For more specific information about this weekend's West Lake Creek hike, call Susie Kincade at 970-328-5472 and ask for Susie or Mark.
In the spirit of Wilderness, all outings are limited to 15 participants
INFO BOX
What: West Lake Creek wilderness hike – no charge
When: Beginning at 9 a.m. Sunday, June 17
Hike difficulty: Easy to moderate hiking for about 5 miles roundtrip.
Bring: Water, food, good boots (there are five creek crossings), a jacket.
Contact: Registration required: www.whiteriverwild.org/hikes
Meet up: Squaw Creek trailhead (Trail 1897), at the end of Squaw Creek Road, off U.S. Highway 6 in Edwards
---

0 Comments on "Free guided hikes offered to highlight proposed wilderness areas"
Be the first to comment below.