Vail Mountain summer operations ramp up with opening of Gore Creek Mini Golf
Mild spring temperatures in the Rockies have lent a helping hand to Vail Mountain crews who have been gearing up for summer operations, both on and off the mountain. First up, Gore Creek Mini Golf returns for its second season today (Friday, May 25) beginning at 10 a.m., with nine holes of putting for all ages amongst an interpretive animal theme that spotlights a different local animal species at each hole.
Further up the mountain, crews are prepping the mountain for a full menu of activities. Scenic rides and bike hauls on the Eagle Bahn Gondola (#19), activities at Adventure Ridge and dining at Talon's Deck start up for weekend-only operations Friday, June 8 through Sunday, June 10. Daily and evening operations resume earlier than normal this summer, beginning Friday, June 15.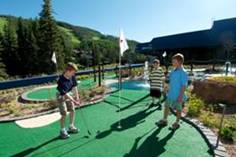 New this summer, construction is well underway on a second mountain biking flow trail, Radio Flyer, to complement Big Mamba, which opened late last summer. Both trails are the result of Vail Mountain's partnership with the U.S. Forest Service and the International Mountain Biking Association (IMBA). Radio Flyer will wind down the western edge of Vail Mountain before converging with other trails and, like Big Mamba, will be slightly wider than a traditional downhill trail and is geared toward intermediate riders. Flow trails are designed with sustainability in mind and use construction techniques that allow water to run off the trail itself, reducing erosion and allowing the trail to last longer.
"The Big Mamba flow trail has been a tremendous addition to the mountain biking lineup on Vail Mountain and a fantastic way for riders to hone their skills before venturing on to more advanced trails," said Julie Rust, director of Vail Ski Patrol and the summer trail crew. "We're looking forward to expanding the summer mountain biking experience for our guests and the community with the completion of the Radio Flyer flow trail, which we're hoping to open to the public by July 1."
As always, guests are reminded to obey all posted signs and closures. Helmets and sturdy shoes with a good tread are recommended for bicyclists at all times and all bikes must have two working hand brakes. All mountain bikers must obey the National Off-Road Bicycle Association (NORBA) code, printed on Vail Mountain's summer trail map.
Adventure Ridge
Adventure Ridge activities at the top of the Eagle Bahn Gondola (#19) include the Top of the Mountain Tours, horseback tours, disc golf, bungee trampolines, a climbing wall as well as pony rides and Dino Dig for Vail's youngest visitors. Guests can also partake in the complimentary slackline park, horseshoes and bean bag toss.
On-Mountain Dining
Soak up some sun and indulge in views of the Vail Valley, Gore Range and Mount of the Holy Cross over lunch at 10,350 feet at Talon's Deck, open Friday through Sunday only, June 8-10 and daily beginning Friday, June 15.
Bistro Fourteen will begin summer operations on Friday, June 15. Regular summer hours will include Thursday, 4–9 p.m., Friday and Saturday 11 a.m.–9 p.m. and Sunday 11 a.m.–4 p.m.
Game Creek Restaurant will be open for Father's Day Brunch on Sunday, June 17 at 11 a.m. Dinner service will begin on Friday, June 22 from 5:30–8:30 p.m. through Sunday, Sept. 2. Regular summer hours for dinner will include Thursday, Friday and Saturday with après on the deck from 5:30–7 p.m. and brunch on Sundays from 11 a.m.–2 p.m.
Lift tickets are required to ride the Eagle Bahn Gondola (#19) during the summer and can be purchased at the Lionshead Ticket Office. 2012–2013 season pass holders receive unlimited, free scenic access to the Eagle Bahn Gondola (#19). Guests who have not yet secured a pass for next winter can purchase one at www.epicpass.com.
Summer 2012 Eagle Bahn Gondola (#19) Dates & Hours
Weekend Operation, Friday–Sunday, 10 a.m.–6 p.m.
June 8–10
Daily Operation
June 15–Sept. 3
Sunday–Wednesday, 10 a.m.–6 p.m.
Thursday–Saturday, 10 a.m.–9 p.m.
* Bikes are not allowed up the gondola after 6 p.m.
Open Additional Weekends, Friday–Sunday, 10 a.m.–6 p.m.
Sept. 7–9, Sept. 14–16, and Sept. 21–23
For more information about Vail Mountain, lift tickets, Adventure Ridge and mountaintop dining, visit www.vail.com, or stop by the Mountain Information Center, open daily from 9 a.m.–4 p.m., or call (970) 754-VAIL (8245).
---

0 Comments on "Vail Mountain summer operations ramp up with opening of Gore Creek Mini Golf"
Be the first to comment below.