VRD announces Vail Mountain Bike Race Series schedule for summer of 2012
The Vail Recreation District's (VRD) Athletic Club at the Westin Vail Mountain Bike Race Series schedule is set for this summer and will offer racers ages eight and older an action-packed summer featuring seven races throughout the Vail Valley, beginning on May 23 in Eagle.
Racer-favorite Camp Hale Hup will return, offering racers a new-again race on July 25. Preregistration for individual races and the entire series is currently under way for all experience levels, ages eight and older, by clicking here.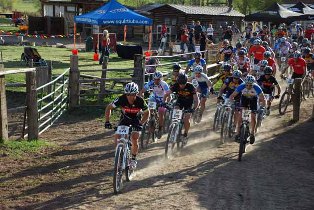 Joining title and presenting sponsors the Athletic Club at the Westin and East West Resorts, presenting sponsor the Vail Valley Medical Center (VVMC) will provide racers tips throughout the summer on how to have their best race season, as well as VVMC bike socks for all series riders.
The 2012 series dates are as follows:
May 23 Eagle Ranch Classic, The Eagle Ranch Neighborhood in Eagle
June 6 Hammer in the Hay, 4 Eagle Ranch near Wolcott
June 20 Davos Dash, Holiday Inn in West Vail
July 11 Vail Grind, LionsHead on Vail Mountain
July 25 Camp Hale Hup, Red Cliff
Aug. 1 Boneyard Brawl, The Bluffs Neighborhood in Eagle
Aug. 15 Beaver Creek Blast, Centennial chairlift, Beaver Creek
Last year, 1,800 mountain bike racers competed for $20,000 in cash and prizes. The Larkburger Youth Mountain Bike Series also continued to grow with over 200 area youth, ages 8 to 14, racing on many of the same trails as the expert and professional riders. Based on this last year's feedback, a new Teen Category will be introduced for races ages 14 to 16. The Never Ever category will also return at a reduced rate of $15 for preregistration or $25 on race-day and will be available at the Eagle Ranch Classic, Hammer in the Hay and Davos Dash races only. Never Ever participants will not receive team or individual points.
VRD Sports Events Manager and Mountain Bike Series Race Director Beth Pappas is looking forward to this year's series. "We're thrilled to have the Athletic Club at the Westin and East West Resorts returning as our title sponsors as well as the addition of the Vail Valley Medical Center, all of which will continue to elevate the race series year after year," said Pappas. "We're also psyched to bring back the classic Camp Hale mountain bike race and offer our participants more variety in this year's series."
Individual adult race costs are $25 for preregistration or $35 on race-day. Racers also can register for the entire race series for $150 by May 17. Teams of up to 25 riders can compete for the overall series title as well. Larkburger Youth Series (ages 8 -14) costs are $60 for the entire series or $10 for individual races ahead of time and $15 on race-day. Registration is available by clicking here. Prizes will presented to the top three finishers of each category after each race, with series prizes awarded to the top finishers in each category at the end of the final race of the season. Raffle prize drawings also will be held at each race awards ceremony featuring products from area merchants and national companies.
In addition to the Athletic Club at the Westin, East West Resorts and the Vail Valley Medical Center, sponsors of the 2012 races include the Dusty Boot, Bud Light, FirstBank of Vail, Vail Resorts, Inc., Beaver Creek Resort Company, Aberle Investment Management, Apex Dental, Central Rockies Mortgage, KZYR, Honeystinger, Ellsworth Bicycles, HESTRA Gloves, Camelbak, POC, Optic Nerve, Street Swell, Outdoor Technology, Rocky Mountain Reprographics, Vail Honeywagon and The Steadman Clinic. The 2012 Youth Series is presented by Larkburger andKIDsport. Photos of the 2011 race series were taken by Scott McClarrinon and are available by going to www.mcclarrinonphotography.com.
Registration, course information and start times are available by clicking here or calling 970-479-2280.
---

0 Comments on "VRD announces Vail Mountain Bike Race Series schedule for summer of 2012"
Be the first to comment below.