Vail Jazz Festival releases 2012 summer schedule
The Vail Jazz Foundation Thursday announced its 2012 Vail Jazz Festival season with ticketed and free events taking place throughout Vail from June 24 through September 3.
The 18th annual Festival brings international jazz artists to indoor and outdoor venues, highlighting a variety of jazz styles from swing and Latin jazz to Big Band, straight ahead and "new bop."
"We go all out to bring the very best jazz to Vail – whether for our free concerts or the Labor Day Weekend Party," said Howard Stone, artistic director for the Vail Jazz Festival. "We can promise some of the finest jazz music of all genres, and in this naturally magnificent rocky mountain setting, it just doesn't get any better than that."
Beginning Sunday, June 24 the Jazz Festival presents Jazz at the Market – midday concerts held at the Jazz Tent at Solaris in conjunction with the Vail Farmer's Market. Each of the ten performances features regional and national artists in an improvisational format.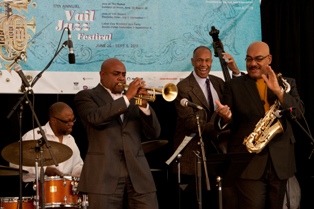 Sunday evenings through the summer will be marked by Jazz at Kelly Liken with Vail jazz favorite Tony Gulizia and special guests. Liken's Sunday Night Harvest Dinners feature menu items from local farmers.
Owner/Chef Kelly Liken says, "Over the past few years, these dinners have become a locals' favorite place to be; the dining room is always filled with guests we know well and we're excited for our new partnership with the Vail Jazz Festival."
Also beginning in June, The Life & Times of Dave Brubeck exhibit will be on display at the Visitor's Center in Vail Village. The free exhibit highlights one of the most extraordinary living jazz musicians in America. Now 91, Brubeck, whose sons perform in Vail, will be the subject of a Multi-Media Salute by Grammy-winning musician, Bill Cunliffe on August 31.
For the first time ever, the Vail Jazz Festival teams up with the Bravo! Vail Valley Music Festival for "Swingin' with Curtis Stigers" and the Dallas Symphony Orchestra on Monday, July 2 at the Gerald R. Ford Amphitheater. The evening features legendary vocalist, Stigers and guest pops conductor Jeff Tyzik.
Tickets for the Bravo! season go on sale Monday, April 23. Following three Bravo! performances in 2012, the Vail Jazz Festival and Bravo! partner to present Jazz After with select orchestral musicians in a jazz jam-format at Larkspur Restaurant. Details on Jazz After will be announced soon.
Thursday, July 5 marks the return of Jazz at Vail Square at The Arrabelle in Lionshead. These partially ticketed and free concerts will feature The Brubeck Brothers, Marcia Ball, the Air Force Falconaires and Cuban sensations, Wil Campy y su Gran Union, among others. Reserved seating is available for $20 and a Thursday night jazz pass is available for $99, which includes reserved seating at all nine Jazz at Vail Square concerts.
The summer of non-stop jazz culminates with the Labor Day Weekend Vail Jazz Party from Thursday, August 30 through Monday, September 3. The celebrated Vail Jazz Party hosts a variety of the world's most renowned artists for eight events and 30 hours of music. Concerts, multi-media salutes, late night sets and a Gospel Prayer Meeting are included in the $385 Patron Pass and individual event tickets are also available. The complete lineup of musicians will be announced soon.
Tickets for the 2012 Vail Jazz Festival are on sale now and may be purchased online at www.vailjazz.org or by calling 888-VAIL JAM (824-5526). Discounted lodging for the Labor Day Weekend Vail Jazz Party is available through partner and Jazz Party headquarter hotel, Vail Marriott Resort & Spa. The Vail Jazz Festival is presented by the Vail Jazz Foundation.
---

0 Comments on "Vail Jazz Festival releases 2012 summer schedule"
Be the first to comment below.