Former Fiestas! co-owner Marquez opens Café de Luna in Avon
Debbie Marquez has done it again. The former co-owner and proprietor of Fiestas! Cafe & Cantina in Edwards has opened a new restaurant called Café de Luna in Avon.
Café de Luna showcases Debbie's signature New Mexico style cuisine, combining other Mexican favorites in what she likes to call "High Country Mex" fare.
Marquez has opened up her new venture in the Christie Lodge where Blue Plate Bistro used to be. She will be serving breakfast, lunch and dinner 7 days a week. Café de Luna prides itself on making nearly everything they serve in-house using fresh ingredients from reliable and socially conscious companies.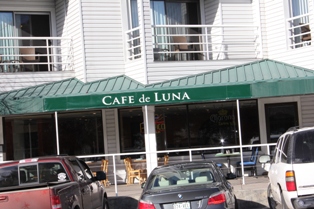 A stand out on the menu is the different chile sauces they incorporate into their dishes. All of Café de Luna's chile sauces are prepared from scratch with four primary from-the-farm chiles. These farms have been supplying the Marquez and Luna families for generations.
Fans of Marquez will be happy to find that familiar favorites as well as additional New Mexico style dishes on the menus. Blue Corn tortilla chicken enchiladas, Chile Rellenos and sizzling fajitas are staples on the menu.
Dinner and lunch are serving similar dishes but in different proportions to suit the time of day. Breakfast is a special affair at Café de Luna with a hot breakfast buffet brimming with numerous options or choose from à la carte breakfast items such as breakfast burritos, Santa Fe style eggs and Huevos Rancheros.
Debbie Marquez is excited about her new venture and explains, "I wanted to bring my signature family dishes to the community of Avon and its visitors. I am passionate about my recipes, some of which have been in the family for generations."
Café de Luna is now open serving breakfast, lunch and dinner. They have a full bar and are pouring their signature margaritas along with their satisfying food. During warmer months their patio will provide a sun-drenched haven for meeting friends and family over a plate of "High Country Mex" food.
Stop in to Café de Luna the next time you are craving New Mexican food, Debbie and her friendly staff look forward to seeing you.
---

1 Comment on "Former Fiestas! co-owner Marquez opens Café de Luna in Avon"