Vail to host homecoming celebration for Vonn on Sunday, April 1
Vail Mountain officials on Wednesday announced details of a homecoming celebration on Sunday, April 1 at 3 p.m. for Olympic and World Cup overall ski champion Lindsey Vonn to commemorate a record-setting season.
"It's been a truly incredible season and I can't wait to get back to Vail and celebrate with my friends and fans," Vonn said. "The support and encouragement I continue to receive from the Vail community is one of the things that keeps me motivated to do my best."
During the 2011-2012 season Vonn won 12 total World Cup races and became the first American ever to win four World Cup overall titles and only one of two female skiers ever to do so.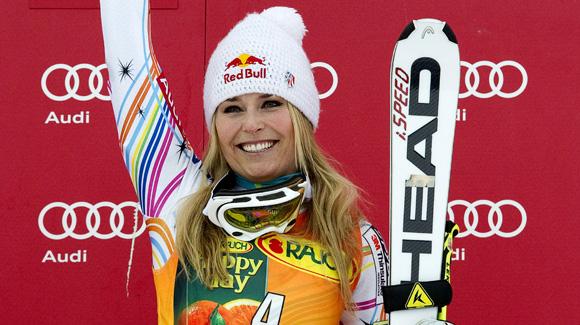 One of the most dominant athletes of all time, Vonn is also the first American woman to win a gold medal in the downhill at the 2010 Winter Olympics and has won five consecutive World Cup season titles in the downhill, four consecutive titles in super-G, and three consecutive titles in the combined. She has won a total of 53 World Cup races throughout her career to date -- third on the all-time career victories list.
"Lindsey Vonn has already been extraordinarily successful as one of the greatest athletes in history. She completely dominates her sport and her name has become synonymous with the all-time greats in ski racing and beyond," said Rob Katz, chairman and chief executive officer of Vail Resorts. "Vail Resorts is proud to partner with Lindsey and we continue to admire her unstoppable determination and commitment to excellence through all her accomplishments."
The homecoming festivities will kick off at 3 p.m. in Arrabelle Square in Lionshead. Fans can pick up complimentary snacks and commemorative items while supplies last. Along with representatives from the Town of Vail and Vail Resorts, a few lucky girls who participated in Ski Girls Rock, Vonn's signature Ski & Snowboard School program at Vail this season will join Lindsey on stage. The girls will have had an exclusive ski session with Lindsey Vonn earlier in the day on Vail Mountain. Following the celebration in town, fans are invited to meet Lindsey and get her autograph until 5 p.m.
While she was born in Burnsville, Minn. in 1984, Vonn considers Vail her "hometown" as she and her family commuted to Vail for training for several years before finally moving there permanently in the late '90s to further her racing career. Lindsey spent her formative years on VailMountain, honing her racing skills in all alpine disciplines with Ski & Snowboard Club Vail, then went on to achieve success in major U.S.and international events such as the Junior Olympics, Junior Worlds, NorAms and Europa Cup before entering the International Ski Federation (FIS) World Cup circuit. When she's not rigorously training or garnering medals, Vonn makes her home at the The Ritz-Carlton Residences, Vail.
Vail Mountain has supported Vonn throughout her career and Vonn now represents all six of Vail Resorts' world-class mountain resorts–Vail, Beaver Creek, Breckenridge, Keystone, Heavenly and NorthstarCalifornia.
For more information about VailMountain, visit www.vail.com or contact theMountainInformationCenter at (970) SKI-VAIL (754-8245).
---

0 Comments on "Vail to host homecoming celebration for Vonn on Sunday, April 1"
Be the first to comment below.