Celebrity ski race classis Ford Cup celebrates 30th anniversary this weekend
It's hard to believe that it has been 30 years since former President Gerald R. Ford decided that his popular summer celebrity golf tournament needed a winter counterpart. The newly-opened Beaver Creek played host to its first event and the newly-created Vail Valley Foundation produced its first athletic effort. The rest, as they say, is history.
\That history will be celebrated Friday and Saturday, March 23-24, when celebrities and sports stars once again join forces with some of ski racing's biggest names for the 30th anniversary Korbel Ford Cup celebrity team competition segment of the 2012 Korbel American Ski Classic at Golden Peak.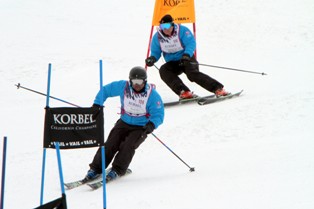 "The Korbel Ford Cup is truly at the heart of everything that the Korbel American Ski Classic has evolved into over the past 30 years," explained Michael Imhof, Vice President of Sales and Operations for the Vail Valley Foundation. "Since its creation, it has introduced so many people to skiing in the VailValley and helped set the stage for everything from World Cups to World Championships. I know how proud President Ford was of the Korbel American Ski Classic and it is an honor to present its 30th anniversary celebration in his honor."
Contested over two days, the Korbel Ford Cup features head-to-head competition, with teams captained by some of the competitors that helped write ski racing history and comprised of celebrities, sponsors and paid participants.
Heading up the list of sports celebrities slated to participate in the 2012Korbel Ford Cup include former NFL quarterback Mark Rypien and running back Joe Washington, along with former MLB pitcher Bret Saberhagen. Summer and Winter Olympics will be well represented as well, with gymnasts Trent Dimas and Mitch Gaylord, track and field standout Carol Lewis-Zilli, swimmer Steve Lundquist and figure skater Paul Wylie.
Entertainment celebrities will include actors Alfonso Ribeiro, Anthony Anderson, Grant Show and Giancarlo Esposito, along with country music star Steve Azar.
"It's really amazing just how competitive the celebrities are once they hit the racecourse," Imhof continued. "No matter what their skiing ability, they all have a tremendous amount of fun with the Korbel Ford Cup and they are a great reminder that the main ingredient of skiing is the enjoyment that it brings."
The skiing legends, former Olympic, World Championship and World Cup medalists spanning the past three decades, will serve as Korbel Ford Cup team captains, in addition to competing in the Volvo Legends Giant Slalom Thursday evening, March 22.
The 30th Anniversary Korbel Ford Cup competitions will get underway on Friday, March 23, as the 35 five-person teams go head-to-head in an effort to move through their respective pools and qualify for the bracket rounds on Saturday, March 24. A total of eight teams will advance, based on their cumulative won-lost record over the course of the two days of racing, but only one will emerge victorious.
The 30th anniversary Korbel American Ski Classic is a project of the Vail Valley Foundation. For additional information on the Korbel American Ski Classic, contact (970) 777-2015 or visit www.vvf.org.
---

92 Comments on "Celebrity ski race classis Ford Cup celebrates 30th anniversary this weekend"