Conway Cup registration now open, with spot in Korbel Ford Cup up for grabs
Calling all Vail Valley gate bashers--registration is now open for the third annual Conway Cup community team race, presented by Korbel. The race, open to competitors of all abilities, is scheduled for March 21 at Vail Mountain's Golden Peak.
Register your team of four and compete for some great prizes, including a spot in the Korbel Ford Cup during the 30th anniversary Korbel American Ski Classic. Second and third place teams will also receive prizes. Costumes are encouraged and fun is definitely the name of the game.
The race is named and run in memory of Dan Conway, a great friend to ski racing at all levels throughout the Vail Valley, who passed away in May 2009. Through his position as Director of Racing for Vail and Vail Resorts, he played a key role in all competitions held on Vail and Beaver Creek Mountains, from World Cup and World Championships to NASTAR.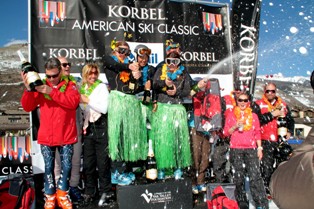 Entries are priced at $80 per team ($20 per person) and racers from one end of the valley to the other are encouraged to put together a team and race to celebrate Conway's life. The race is a team competition and no individual entries will be accepted.
Registration includes entry in the Conway Cup race, presented by Korbel, two post-party invitations per racer, Hawaiian-themed beach party, prizes for the team with the most spirit and best costumes, DJ Mo Rockin and more. Teams can register online atwww.regonline.com/conwaycup.
All racers must be 21-years-of-age and racers on the winning team must be available to race both days of the Korbel Ford Cup, March 23-24. No substitutions will be permitted. Racing gets underway at 11:30 a.m. on March 21, with the finals due to start at 3 p.m. Each racer will need to take two runs, one on each course.
In addition to the Conway Cup, presented by Korbel, the 30th anniversary Korbel American Ski Classic will also include the Volvo Legends of Skiing Giant Slalom (March 22), the Future Legends Race (March 24), the Korbel Ford Cup celebrity team races (March 23-24) and the brand new Battle of the Legends Relay (March 24). All Korbel American Ski Classic competitions are hosted at Golden Peak in Vail and are free to the public.
Along with the races, the Korbel American Ski Classic festivities will also include the special edition of the Bud Light Street Beat free concert series, featuring G Love & Special Sauce (March 22) at the Golden Peak Stadium, the Gorsuch Tea Dance and the Hold 'Em for Hope benefit dinner and auction (March 23) and the Legends of Skiing Banquet (March 24).
The Korbel American Ski Classic is a project of the Vail Valley Foundation. For more information on the Foundation or the American Ski Classic, visit www.vvf.org.
---

2 Comments on "Conway Cup registration now open, with spot in Korbel Ford Cup up for grabs"