Grace Potter and the Nocturnals to play free Spring Back to Vail show
Back by popular demand, Grace Potter and the Nocturnals will return to Vail to play a free concert at Spring Back to Vail 2012, Vail Mountain officials announced today.
Blues rockers JJ Grey & Mofro also confirmed to play the event. More Spring Back to Vail bands will be announced in the coming weeks. Admission to all concerts and events that are part of Spring Back to Vail are offered completely free to Vail's guests.
"We've made a commitment to providing world-class entertainment and events for our guests as a compelling reason for them to choose Vail," said Adam Sutner, director of sales and marketing for Vail Mountain. "We're proud that Spring Back to Vail has become a much-anticipated annual event for our fans and guests from all over the U.S. and the world. As with the last three years, we are pleased to offer this to our guests entirely for free."
Grace Potter and the Nocturnals, who played Spring Back to Vail 2011 to rave reviews, will play a free show at Solaris Plaza in Vail Village on Thursday, April 12,
Named one of the "Best New Bands of 2010" by Rolling Stone and one of VH1's "Artists You Oughta Know," the band is nearing completion of their fourth studio album, which will be titled The Lion The Beast The Beat.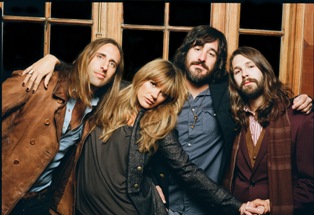 The band will be playing in Vail just before their first ever performance at Coachella, and it has been rumored that the band will play songs from their new album at their April 12 show. Following Coachella, the band will embark on a summer stadium tour with co-headliners Kenny Chesney and Tim McGraw, a pairing inspired by Grace's duet with Chesney on their CMA Award-winning single and video "You and Tequila," which is also up for multiple Grammy and ACM awards and was recently certified platinum for sales of over one million downloads.

JJ Grey & Mofro is a Blues/Southern rock band hailing from Jacksonville, Fla. that has built an intensely loyal fan base since their debut in 2001. Grey is known for laying it all on the line during every single performance, leaving blissful fans and overwhelming praise in his wake.
Grey comes from a long tradition of Southern storytellers and, in that spirit, he fills his songs with details that are at once vivid, personal and universal. His songs have appeared in film and on network and cable television programs including House, Flashpoint, Crash, Friday Night Lights, The Deadliest Catch, and the film The Hoot. JJ Grey & Mofro will play a free concert on Saturday, April 14 in Vail Village.
Spring Back to Vail is the annual spring bash in Vail, Colo. celebrating the close of the skiing and riding season with a jam-packed schedule of events that includesfree headliner concerts, nightly bar parties, the Spring Back to Vail Expo Village and the wet 'n' wild World Pond Skimming Championships presented by Rockstar.
For more information on Spring Back to Vail, including the full schedule of events as it develops and registration for the World Pond Skimming Championships, visit www.vail.com/springback.
Spring Back to Vail is presented by Vail Mountain, Bud Light, Cadillac, SoBe Lifewater,Sprint, and Town of Vail, and is brought to you in part by Helly Hansen, Maui Jim, SmartWool, Macanudo, Liberty Skis, UrgentRx, Vail Daily and KZYR-The Zephyr.
---

3 Comments on "Grace Potter and the Nocturnals to play free Spring Back to Vail show"