First Vail Global Energy Forum set for March 3-4 at Vilar Center
The Vail Valley Foundation, in conjunction with Stanford University's Precourt Institute for Energy (PIE) and Precourt Energy Efficiency Center, (PEEC), will host the inaugural Vail Global Energy Forum (VGEF) March 3-4 at the Vilar Performing Arts Center (VPAC).
"The Vail Global Energy Forum is dedicated to the search for sustainable solutions to one of the most pressing issues of our times – how to produce enough clean, cost-efficient energy from reliable sources to power our global economy while we bridge the transition to breakthrough renewable energy solutions of the future," said Vail resident, Jay Precourt, who endowed the Precourt Institute for Energy at Stanford University.
The VGEF will examine the combined challenges of energy supply, energy security, and the impacts of energy use that will shape the energy transitions underway now and in the decades to come.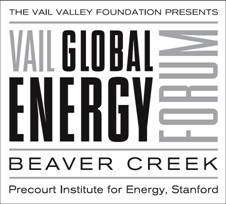 "Beaver Creek is an ideal setting for the Vail Global Energy Forum," said Harry Frampton, Chairman of the Vail Valley Foundation's board of directors. "Colorado is both an energy-producing state and an acutely environmentally aware state. It is also home to some of the fastest growing new energy business "incubators", devoted to the development of clean energy solutions and Vail Resorts is a recreational leader in utilizing and promoting green technologies."
The VGEF will bring together some of the world's foremost leaders in their fields to discuss how best to provide the energy the world needs to support a productive global economy while limiting adverse effects on the environment. Participants and speakers will include distinguished government officials, corporate executives, research scientists, entrepreneurs, venture capitalists, investors and world-renowned journalists.
Confirmed participants include George P. Shultz, former U.S. Secretary of State, Secretary of the Treasury and Secretary of Labor and now Distinguished Fellow of Stanford's Hoover Institution; U.S. Senator Mark Udall of Colorado, Member of the Senate Committee on Energy and Natural Resources; Jeffrey Ball, Former Environment Editor of The Wall Street Journal; Tom Petrie, Vice Chairman of Bank of America; Dr. Ernest Moniz, Director of the Energy Initiative at MIT; Dr. Burton Richter, Nobel Laureate in Physics, Senior Fellow at Stanford; and Dr. Nathan Lewis, Director, Lewis Research Group at Caltech.
Additional speakers and panelists will include Gregory Ebel, President and CEO of Spectra Energy; Tom Siebel, Founder of Siebel Systems; Dr. Franklin M. Orr, Director, Precourt Institute for Energy at Stanford; Dr. James Sweeney, Director, Precourt Energy Efficiency Center at Stanford; Dr. Sally Benson, Director, Global Climate and Energy Project, also at Stanford.
"Satisfying the worldwide demand for efficient and clean energy presents one of the greatest challenges of the century," explained John L. Hennessy, President of Stanford University. "It also represents a global opportunity. The breakthrough research being done within the Precourt Institute of Energy at Stanford is addressing this challenge to find working solutions through technologies that are sustainable and affordable."
The Vail Global Energy Forum is organized by the Vail Valley Foundation in collaboration with Jay Precourt, Dr. Franklin L. Orr, Dr. James Sweeney and Carl Colby, Executive Director of the VGEF.
The event will be open to the public, with ticket sales now underway. Tickets are $100 for general admission and $175 for a "Signature Package," which includes reserved seating, pre and post event receptions on Saturday, as well as continental breakfast on Sunday.
Vail Global Energy Forum tickets are available by phone at (888) 920-ARTS(2787) or in person at the Vilar Center box office in Beaver Creek and the Marketplace box office in Vail Village. Tickets are available online 24 hours a day at www.vilarpac.org .
For additional information on the inaugural Vail Global Energy Forum, contact the Vilar Performing Arts Center at (970) 845-TIXS (8497) or visit www.vailglobalenergyforum.com . The Vail Global Energy Forum is a project of the Vail Valley Foundation. For more information on the Foundation, visit www.vvf.org.

---

5 Comments on "First Vail Global Energy Forum set for March 3-4 at Vilar Center"