130 Eagle County kids graduate from SOS Learn to Ride program
After five days of fun, frustration and excitement, 130 Eagle County youth will leave the slopes not only having learned to ski and snowboard, but also with a character development experience they won't forget.
These students graduated from SOS Outreach's introductory "Learn to Ride" skiing/snowboarding program earlier this month. Many youth who have never been on the mountain before were able to spend five days on the hill with instructors and adult mentors learning to ride.
Each of these on-hill days is paired with one of SOS' five Core Values: courage, discipline, integrity, wisdom and compassion. Through the program youth learn how to use these values both on the mountain and in their daily lives.
"My favorite word was compassion," shared 9 year-old Cynthia Miramontes, who according to her teacher is usually very shy. "I like it because once I helped a lady that was stuck. When I saw her I helped her and told her not to be scared because you can always learn from your mistakes."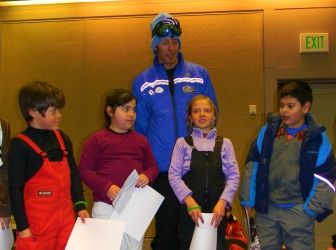 SOS is a Colorado-based nonprofit that aims to build character in underserved youth through outdoor adventure sports. Youth participating in SOS programs are often "underserved" in that they come from low-income families, single-parent households, may be involved in the court system or are demonstrating poor academic achievement.
SOS tries to combat the everyday problems these kids face by providing programs that enhance their self-esteem and provide them with opportunities to become leaders in their own communities. By using outdoor activity as an incentive, SOS teaches life skills kids can use long after their days on the hill are over.
Eagle County's Learn to Ride graduations, which were held at Vail and Beaver Creek Ski Resorts, was the culmination of the program. The ceremony included SOS staff, instructors and adult mentors recognizing each of the kids for their hard work and determination, presenting them with certificates of achievement and a graduation gift. Throughout Colorado, SOS had a total of 207 youth graduating from the Learn to Ride program at five different resorts over the weekend.
"It was really awesome to see the growth and progress that students had made over five days. They may have been focusing on the skill of snowboarding, but their personal growth really extended far beyond that," said Nicole Grabowski, SOS Eagle County Program Coordinator.
"By the fifth ride day, students had a lot more confidence and pride surrounds both their snowboarding and the core values. Not only were they proud of themselves, but they were very proud of other members of their group and were eager to share this with everyone."
Students also took the time to thank the Vail Resorts instructors and ski school staff for their help. SOS receives much of its support from participating resorts who supply passes and instructors to participants. Vail Resorts Echo Program in particular has been a long time supporter of SOS Outreach.
---

2 Comments on "130 Eagle County kids graduate from SOS Learn to Ride program"