Vail Symposium announces 19 thought-provoking programs for 2011-12 winter season
The Vail Symposium's Winter 2012 season is under way with a lineup of 19 exciting, unique, and thought-provoking programs.
"After a record-setting 40th anniversary, in which we saw a 51 percent growth in program attendance, we have set our sights on presenting an even more impactful program this winter," said Executive Director Liana Moore. "The season will kick off with a "Taste of Yale in Vail" that includes a presentation by Eric Paddock on the works of Robert Adams and a performance by the famed Whiffenpoofs on December 29 and will be followed by an additional eighteen captivating programs."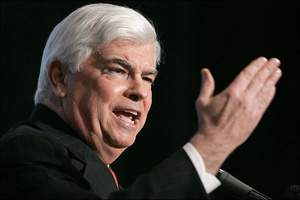 Created in 1971, the Vail Symposium was conceived by community leaders to be a forum for discussions to help create a vision for the community. The weekend-long think tank attracted not only the majority of townsfolk, but also policy shapers from across the state and nation. Throughout the years the Symposium has diversified and expanded its scope with a dedication to timely, thought-provoking programs that have relevance to the community and world. This season's lineup reflects our renewed efforts to elevate the quality and impact of our programs as we embark on the next 40 years.
Hot Topics
The Symposium's most recognizable series, Hot Topics, features experts who speak about issues relevant to our community and the world. This winter features three programs that deal with very timely and important topics, including a discussion about the condition of the United States Congress.
Born out of a new partnership with the Korbel School of International Studies at the University of Denver, on April 22 Senators Christopher Dodd and Hank Brown will participate in a senatorial dialogue on the future of the United States Congress. The Senators will discuss the present function and dysfunction of the U.S. Congress in a discussion moderated by Rohn Robbins.
"We are so fortunate to partner with the University of Denver Korbel School of International Studies to bring extraordinary programs to the Vail Valley," said Vail Symposium President and CEO Alby Segall. "The opportunity for the Vail Symposium to co-sponsor a few programs a year in Denver at the University expands our audience and helps build our reputation beyond Vail. Former Senators Dodd and Brown in Denver this spring are perfect for the launch of this partnership. The Senators understand the meaning of reaching across the aisle, a behavior that is hard to find in today's Congress."
On January 5 three wildlife and building authorities, Theodore P. Zoli, Nina-Marie Lister and Harvey Locke, will convene for a panel discussion on Wildways for Wildlife the first project of its kind that could happen right here in Eagle County. Finally, on March 15 Yvo de Boer, Special Global Advisor, KPMG Global Climate Change and Sustainability Services, and former Executive Secretary of the United Nations Framework Convention on Climate Change will speak on Climate Change.
"The program with Yvo de Boer on Climate Change is a prime example of the Vail Symposium thinking globally, but convening locally," said Vail Symposium Board Chairman Jim Ruh. "Mr. de Boer is one of the World's leading authorities on international efforts to address climate change. This is a program that no one should miss."
International Relations
We convene locally but think globally. This season three programs focus on issues relating to important current issues around the world. Jamie Metzl, Senior Fellow with the Asia Society will discuss the possibility and implications of a China-India conflict (March 4). Ambassador Christopher Hill will discuss the events of civil unrest, protest, and revolution in the Middle East and Africa, which have come to be known as the Arab Spring (April 5). And on February 9 Shaul Gabbay, Ph.D. will discuss the Israeli-Palestinian conflict and deliver fascinating narratives of both sides, revealing different perspective about the simmering conflict in a region desperately needing peaceful resolution.
Art & Culture
Art shapes our creative and innovative nature and culture shapes inherited ideas into social action. Three programs this season offer a variety of opportunities to enjoy this category. First, on December 29, Yale returns to Vail for a performance by the unaccompanied voices of the famed Yale Whiffenpoofs and a presentation by Eric Paddock on the works of photographer Robert Adams.
On January 20 join journalist Karin Ronnow and photojournalist Ellen Jaskol for a presentation on their experiences traveling together and collecting stories and images of the Central Asia Institute's work in Afghanistan, Pakistan and Tajikistan.
On March 24 international corporate and trial lawyer Michael Lacher and International Director of Restitution and Senior Vice President at Christie's Monica Dugot will discuss the origins, history, and authenticity of lost and stolen art, as well as several current cases on the restitution of stolen art and the challenges of enforcing recovery claims against foreign governments and institutions, including American museums.
Speaking Locally and Unlimited Adventure
It is part of the mission of the Vail Symposium to offer affordable programs to the community; one way that is accomplished is through the Speaking Locally and Unlimited Adventure series, both of which are free.
The Speaking Locally series gives local leaders, athletes, and other prominent authorities and community members a platform to share their ideas and passions with an audience. This season features three programs in this series. On January 31, following a screening of the movie "Doubt," Rabbi Debra Rappaport, Father Keith Brooks, and Dr. Joan Bornstein will participate in a panel discussion centered around the topics and themes presented in the film. On March 30 Daniel Joseph Watkins and Terry Minger will present on the life, art, and political activism of artist Thomas Benton. And on April 9 the President and CEO of the Colorado Bankers Association Don Childears and the Chairman and CEO of Centennial Bank Jim Basey will discuss how American banks can provide solutions to the current economic crisis.
One of the winter's most loved series, Unlimited Adventure, returns for five Thursday nights throughout the season with a lineup of programs that won't disappoint, starting January 12 with modern day explorer, expedition guide, and founder of the Save the Poles project Eric Larsen. Other adventurers in the lineup this season include two time stage winner of the Tour de France and Olympic medalist Davis Phinney and his wife Connie Carpenter, who has also won several World cycling medals, including an Oympic Gold (February 2) and adventure and wine journalist Stefani Jackenthal, who will speak on The Underbelly of Adventure Journalism (March 1). Solo around-the-world racing yachtsman, global investor and international speaker Neal Petersen (February 23) and climber and co-founder of Paradox Sports Timothy O'Neil (February 16) complete the lineup.
Fundraisers
Support the Symposium by attending—or participating in—two fundraisers this season that emphasize the fun more than most.
First, SPiN Galactic comes to Vail for two days this winter (January 26 and 27). SPiN is a galaxy of ping-pong social clubs created by owners Franck Raharinosy, Andrew Gordon, Jonathan Bricklin, and Academy Award-winning actress Susan Sarandon. The two-day tournament will be comprised of four tiers, and all ages and abilities are invited to enter with cash prizes for each level.
On February 19 the Vail Symposium is teaming up with the Vail Valley Theater Company (VVTC) for an evening of performances that bring the stories of well-known local personalities and community leaders to life, including Beth and Rod Slifer, Dr. Jack Eck, Elaine Kelton, and Kelly Liken. Local actors from the VVTC will perform four original plays, all written by the VVTC, based on the contributions, experiences and achievements of each of these extraordinary individuals. Live and silent auctions after each performance will feature items relating to each of these characters.
Visit www.vailsymposium.org for a complete list of events and event dates, times and locations. Tickets to all events can also be purchased online. Become a member of the Vail Symposium and you can receive email reminders about upcoming programs, newsletters and discounted tickets to programs. To stay up to date on all Vail Symposium programs join our Facebook group, follow us on Twitter or sign up for our newsletter. Call 970.476.0954 for more information.
---

32 Comments on "Vail Symposium announces 19 thought-provoking programs for 2011-12 winter season"