Winter Solstice on Ice brings top skaters to Vail Village for free shows
Vail Family Holidaze continues today and Friday with two more performances of Winter Solstice on Ice, a holiday ice skating show featuring world-class and Olympic ice skaters.
Winter Solstice on Ice brings world-class ice skaters, like World Champion Patrick Chan and 2010 U.S. National Champion and Olympian Rachel Flatt, to the heart of Vail Village to perform singles, pairs and group programs that are sure to delight adults and children alike.
All Winter Solstice on Ice performances will take place on the ice rink in Solaris Plaza in Vail Village and are free and open to the public. Winter Solstice on Ice begins at 5 p.m. each evening.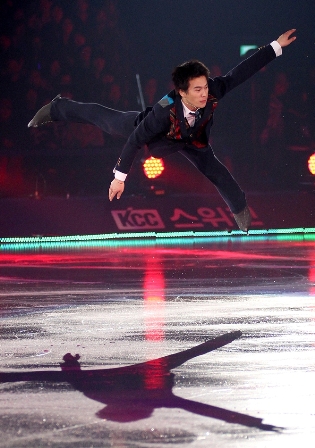 Today and Friday from 3:15-4 p.m., children are invited to enjoy the experience of a lifetime by joining national and international ice-skating competitors, like Patrick Chan and Rachel Flatt, as they share the ice at the Arrabelle at Vail Square and Solaris Plaza before they perform in Winter Solstice on Ice.
As spaces will be limited for this event, those interested in participating are encouraged to register early at the skate rental shops at each rink. Participants in Skate with the Stars must be intermediate level ice skaters or above. Please visit the FAQ page at www.vail.com/holidaze for more detailson registration for Skate with the Stars.
The new Vail Family Holidaze Kids Zone also continues today and Friday in Vail Village and Lionshead. Consisting of a number of free, holiday-themed activities, the Kids Zone will turn Vail Village and Lionshead into a winter wonderland.
Children can pick up a Kids Zone map at any of the event stations, marked with candy cane striped poles, which will guide them through the entire Kids Zone. Children who visit eight of nine Kids Zone stations between Dec. 19 and 24 will receive a free Vail Family Holidaze prize.
The Kids Zone will take place through Saturday, Dec. 24 from 3-5 p.m. each day. Kids Zone activities include ornament making, snowman decorating, the Vail Arctic Express train rides presented by First Bank, Santa's Workshop sponsored by the Vail Recreation District, fireside story time and a puppet theater at the Vail Public Library, s'more making, Caroling Karaoke, entertainers and more.
Vail Family Holidaze is the annual event for families and children surrounding the holiday season that includes holiday concerts, world-class ice skating performances, the new Kids Zone, New Year's Eve activities and much, much more.
For more information on Vail Holidaze, including the full schedule of events and lodging information, visit www.vail.com/holidaze. For information on all activities in the Town of Vail throughout the holiday season, visit www.vailgov.com.
Vail Family Holidaze is presented by Vail Mountain, Cadillac and Town of Vail.
---

32 Comments on "Winter Solstice on Ice brings top skaters to Vail Village for free shows"