Skating Club of Vail presents 'One Singular Ice Sensation' holiday shows at Dobson Ice Arena
The Skating Club of Vail is pleased to announce the schedule for their annual Holiday Ice Skating Shows. Evening shows are slated for both Wednesday, December 28 and Thursday, December 29. Showtime is 6 p.m. each night. Shows take place at the John Dobson Ice Arena in Vail on the free in town bus route.
Entitled "One Singular Ice Sensation", the show is about a young lady's efforts to make it to the big time on Broadway. The story follows her as she auditions for various plays on the Great White Way. Fans will once again be treated to fabulous skating, fantastic music and outstanding sets and costumes.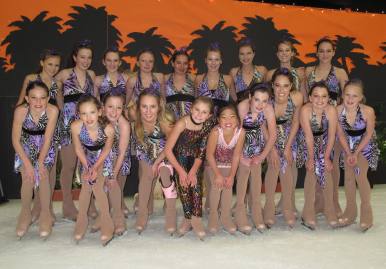 Skaters ranging in age from three to 50 will entertain family members of all ages. Skaters from the Vail Recreation District's StoryTime and Learn-To-Skate programs will participate.
The show features local skating and skiing stand out Kendall Deighan in the lead role. This is Kendall's last year with the Club before leaving for college next fall.
Two other returning Club skaters and local favorites will also perform. Jenna Bearsto returns after touring with Disney On Ice. Grace Lincenberg also returns for an encore performance.
The show will feature nationally ranking guest skaters.
Thomas Schwappach, 14, a qualifier for US Junior Nationals, has performed in past shows. Thomas always has fun on the ice and is a crowd favorite.
Joining Thomas will be Jessica Mancini (15) and Tyler Brooks (17), the 2011 U.S. Figure Skating National Novice Silver medalists. They train at the Colorado Springs Ice Dance Academy under the direction of Tiffany Dombeck.
Ticket prices are $10 for children under 18, $15 for adults and children 2 and under are free.
For more information call the Dobson Ice Arena at (970) 479-2271.
The Skating Club of Vail wishes to thank all of their generous sponsors without whose help, "One Singular Ice Sensation" would not be possible. Sponsors include: Lodge at Lionshead, First Bank, Gore Creek Partners, Pazzo's Pizzeria, Eagle Valley Temps, the Parents Handbook, NRC Broadcasting, Plum TV, Channel 5, KZYR, Acadia Woods Inc., Fitz Landscaping Inc., Lifthouse Lodge LLC, Comerford Insurance Agency Inc., The Dusty Boot Steakhouse & Saloon, Thank You Masked Man, Gore Creek Property Management, Arrabelle at Vail Square, Vail Resorts, BodyLogic MD of Vail, Dr. Heidi Archer M.D., Performance Sports, JAB Management, Vail Valley Ace Hardware, Evergreen Lodge, the VRD, Dobson Ice Arena and the Town of Vail.
---

11 Comments on "Skating Club of Vail presents 'One Singular Ice Sensation' holiday shows at Dobson Ice Arena"