SOS Outreach kicks offs 18th season of serving under-served youth through skiing, snowboarding
SOS Outreach (SOS), an outdoor sports and youth development non-profit, kicked off its 18th season earlier this month by getting 362 under-served youth out skiing and snowboarding at seven different resorts all over the state. One hundred forty one of those youth were from Eagle County.
Before riding at Beaver Creek earlier this month, youth from New America High School in Gypsum shared their definition of the core value of the day, courage.
"It took courage for me to leave my family to come here," said Ellier Granillo who recently moved to Colorado from Mexico. New America High School is just one of the many schools in the area that SOS works with. The school functions as a second language immersion for students from all over the world. Around 80 percent of the students enrolled in the school live on their own and support themselves.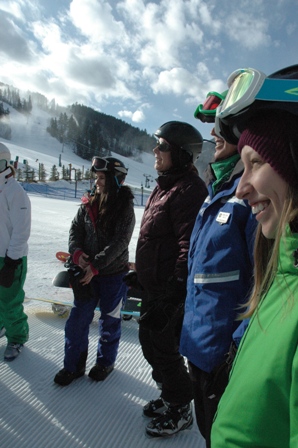 SOS works to build character in at-risk youth by utilizing winter and summer adventure sports as a medium to instill the SOS Core Values—Courage, Discipline, Integrity, Wisdom and Compassion. These values serve as a foundation for all SOS programs.
Youth participating in SOS programs are often underserved in that they come from low-income families, single-parent households, may be involved in the court system or are demonstrating poor academic achievement.
SOS tries to combat the everyday problems these kids are facing by providing high quality programs that enhance their self-esteem and provide them with opportunities to become leaders in their own communities. By using outdoor activity as an incentive, SOS teaches life skills kids can use on and off the slopes.
This year SOS aims to serve 5,000 youth in 15 states and New Zealand. Arn Menconi, Executive Director and founder of SOS had this to say about the organizations growth.
"We've come a long way from serving just Colorado youth through one-day snow sports. Not only do we offer summer programs, but these youth can choose to stay involved in our programs for multiple years now. We have kids who joined our programs at eight, graduated and came back to be adult mentors to new youth. It really shows the impact that our programs have."
The recent Colorado programs would not be possible without the generous donations from participating resorts that provide passes and instructors to SOS youth:
• Vail Echo Program (Breckinridge Ski Resort, Vail Ski Resort, Beaver Creek Ski Resort, Keystone Ski Resort)
• Eldora Mountain Resort
• Arapahoe Basin Ski and Snowboard Area
• Loveland Ski Area

---

20 Comments on "SOS Outreach kicks offs 18th season of serving under-served youth through skiing, snowboarding"