Local law enforcement agencies team up for Stock the Pantry Food Drive
The annual fall food drive sponsored by the Vail Police Department is being expanded this year with additional partners and a new name in an effort to meet an ongoing need to help the local food pantries. The Eagle and Avon police departments as well as the Eagle County Sheriff's Department are joining Vail police in introducing the "Stock the Pantry Food Drive," which will be underway throughout the month.
The goal is to collect 250,000 pounds of food this year, surpassing last year's collection of 170,000 pounds. All food and cash contributions will be distributed locally to food pantries operated by the Salvation Army, Bright Future Foundation and the Food Rescue Express.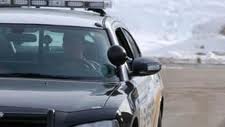 Tsu Wolin-Brown of the Eagle County Salvation Army, notes that in 2010 there were over 5,074 visits to the Salvation Army food pantry. In the first six months of 2011 there have already been 2,411 visits of families in need. "Without the incredible generosity of this community and our law enforcement agencies, we would not be able to supply every family in need with food," she said.
Food collection points are currently in place at the Vail Municipal Building and City Market in Vail. On Oct. 14 volunteers from public safety agencies throughout Eagle County will be collecting food from Eagle County schools, followed by a collection at participating grocery stores from 10 a.m. to 2 p.m. on Oct. 15. These stores include the Marketplace on Meadow Drive in Vail, City Market in Vail, Wal-Mart and City Market in Avon and the City Market in Eagle. Colorado Mountain Express will be donating time and resources by driving the donated food to their designated locations.
Non-perishable items such as canned goods, rice, beans, pasta, cereal and juices are suggested and needed. Participants are asked to refrain from donating items stored in glass containers, items with expired dates or homemade food items.
Donations of cash will also be accepted. Make checks payable to "Town of Vail" with "Food Drive" in the memo line. A tax deductible letter will be mailed for each check.
This is the 11th year for the annual food drive, which was initiated by Vail Code Enforcement Officer Moses Gonzales to commemorate national "Make a Difference Day," which will be celebrated on Oct. 22 this year. For more information, contact Vail Police Officer Craig Westering at 479-2210.
---

165 Comments on "Local law enforcement agencies team up for Stock the Pantry Food Drive"