Vail Valley golf still in full swing but chill in evening air leads to ski talk
The calendar still says "golf" in the Vail Valley, but the chill in the air in the evenings and all the headlines this week screamed "ski."
First the green thing: There are still nearly three weeks left in the summer season, but, believe it or not, golf in the Colorado high country is winding down. Still, this is the time of the year when the big summer crowds fade away, heading back to school and life in the cities.
That means tee times suddenly become easier to obtain, greens fees come down a bit from summertime highs, and the skies suddenly seem to take on an almost electric-blue hue, fiercely framed by brilliant fall foliage. So at least the scenery can distract from errant shots.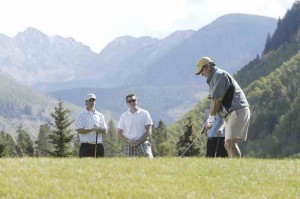 The venerable Vail Golf Club tees up some great Labor Day weekend deals the next few days, but all of the valley's courses will be in peak late-summer form, so go to
www.golfvailvalley.com
for the full links menu.
But I have a soft spot in my heart for the public
Vail Golf Club
, the first course in the Vail Valley. It's in a spectacular location along Gore Creek at the base of Vail Mountain with views of the Gore Range, and while it may not have the sizzle of some of the valley's newer, down-valley courses, it's an old friend that keeps calling.
Speaking of, I just got a copy of the self-published book "Ben Here" by Ben Krueger, an old friend who designed and built Vail's course in the 1960s and 70s (more on that after I read it), and maybe that's what has me feeling so nostalgic.
But some of that feeling may also have to do with the fact that my family also slides the course in the winter on skinny skis, which brings me to my next topic: the white stuff.
Ski areas around the state this week announced all of their capital improvements for the coming season, creating some buzz about the looming snow, which everyone hopes can just come close to last season's record totals. Locally,
Vail will have a new on-mountain restaurant
and Beaver Creek will have a new high speed quad chairlift (more on both of those in future blogs).
But the big news was Vail Resorts upping the ante on its
innovated EpicMix program
that debuted so successfully last season. Originally geared to allowing snow riders to electronically track their vertical feet and the number and location of runs they skied, EpicMix now interfaces with on-mountain photographers. Photos can be digitally uploaded and shared using social media (along with your ski stats).
At first I was skeptical of EpicMix but now have to admit it's a bit addictive. Just one more thing that has me shoving the golf bag a little deeper into the closet and checking the condition of my skis.
Editor's note: This blog first appeared on
www.inspirato.com
.
---

16 Comments on "Vail Valley golf still in full swing but chill in evening air leads to ski talk"