Why fall is the best season in the Vail Valley
This week I headed up Gore Creek Trail in East Vail with my two older boys in tow, just looking to get outside, stretch our legs in the Eagles Nest Wilderness Area and check out the status of a trail renovation program they worked on the summer before.
Besides a slight bite to the air, the other thing we noticed is some of the leaves on willow bushes and even a few aspen trees have already started to turn. It seems almost impossible — given that patches of snow left over from last winter are still glistening in shaded ravines on the higher peaks –- but fall is right around the corner.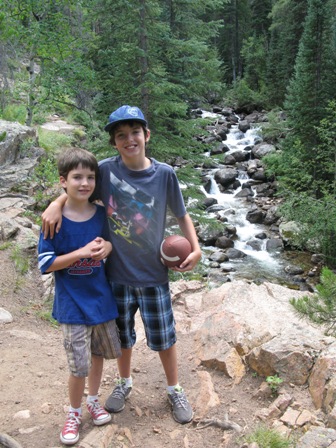 And that means quite a few things in the Vail Valley. First of all, it's easily my favorite season for hiking and biking and a slew of other outdoor activities. The temperatures are perfectly situated in the mid-70s with cool, crisp evenings ideal for deep sleep to recover from whatever adventure lured you into the high country.
But it also means smaller crowds and some very enjoyable late-season festivals. Labor Day weekend, for instance, is all about the Vail Jazz Festival, which draws top-line musicians from around the country and features them in an informal, laid-back mountain setting perfect for improvisational jam sessions. Tickets are going fast for the Sept. 1-5 event, so go to the website for more information.
Oktoberfest in Vail Village (Vail Oktoberfest photo)
Also Labor Day weekend, Beaver Creek hosts its edition of the classic Oktoberfest celebration Sept. 3-4. Then Vail takes its turn on consecutive weekends Sept. 9-11 in LionsHead and Sept. 16-18 in Vail Village.
Given Vail's Bavarian roots (many of its founders hail from Germany and Austria) and Tyrolean tinge, there's no better setting in the state for some genuine oompah music, cranking accordions, hoisting of oversized ceramic beer steins and consumption of kraut and brats.
A bonus on the weekend of Sept. 10-11 is the second annual Wings and Wheels Show in both Vail Village and at the Vail Jet Center at the Eagle County Regional Airport in Gypsum. It's billed as "the most comprehensive auto, aircraft and motorcycle show in Western Colorado."
Based on last year's show and the fact this year features a lot more classic and contemporary cars and planes, this event is definitely worth checking out.
For me, though, the big draw in the fall is the setting itself, with leaves starting to change and a quality to the air that's like no other time of year. Bring your bike, bring your hiking boots and revel in the serenity of the season.
Editor's note: This blog first appeared on inspirato.com.
---

28 Comments on "Why fall is the best season in the Vail Valley"