Field of bad dreams: Ubaldo trade culminates a sorry season all around
Saturday's trade of Ubaldo Jimenez by the Colorado Rockies is the culmination of one of the most disappointing seasons ever for me in the annals of Colorado baseball – and on every level, from little league to the bigs.
After such a promising 11-2 start, the Rockies – picked by many to win the National League West – utterly tanked, forcing them to come to realization that they're not a very good team. Trading Ubaldo, by far the best pitcher the franchise has ever produced, allows them to reload with three top pitching prospects from the Cleveland Indians.
But prospects are just that, prospects, and none of them may ever pan out the way Ubaldo did last season, starting the All-Star game, winning 19 games and finishing third in the Cy Young race. At 6-9 so far this season though, Ubaldo has been a major disappointment. And dating back to the second half of last season, Jimenez has been a shell of his former self.
So has most of the rest of the team, with the iconic Todd Helton the lone and most glaring exception. As good as the best first baseman in franchise history has been in this glorious comeback season, he can't carry the team back to the playoffs by himself.
And remember, after the magical season of 2007, the playoffs are the standard for this franchise. A rookie that year, Ubaldo was a big part of that run to the World Series. Seeing him leave now seems like a waving of the white flag and an admission that one of the greatest hot streaks in Major League history may have been a fluke.
The 2009 season, in which Ubaldo was 15-12, also ended in a playoff run – at the time demonstrating that perhaps 07 wasn't a fluke and that this franchise was loaded with young talent that would carry it deep into the season every year. This season seems to indicate that maybe 09, too, was a bit of a fluke.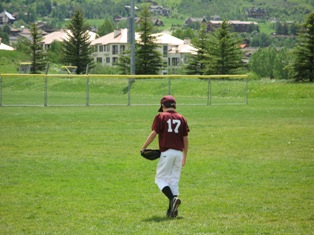 My now 11-year-old son Nick first gained his baseball consciousness during that magical 07 run, forever gaining an undying hatred of the Boston Red Sox for sweeping us out of the World Series after a ridiculously long layoff that let the Rox bats cool off (the Indians clearly should have won that ALCS).
But it was the 09 season that cemented Nick as a true fan. He sat and suffered with me in the coldest National League playoff game of all-time against the Phillies, shivering until midnight when Huston Street gagged in the first of two performances that convinced us both that Street lacks the mental fortitude to be our long-term closer (welcome aboard Rex Brothers).
Nick now bleeds purple and black. He wore Helton's 17 on a traveling Triple Crown team this season that got shellacked by the Front Range kids who had been playing and practicing since March (remember, we had 524 inches of snow this season, so it's a little hard to even find the fields until late April).
That team lost seven out of eight games played, getting no-hit a couple of time, but they beat an Eaton team in Steamboat, playing out of their minds, and that was enough to show a young shortstop, third baseman and occasional outfielder the promise of persistence.
Good thing, because his local little league team went winless. Nick got to pitch, catch and play all over the infield for that team, and playing time is all he really cares about. But a win here and there would have been nice (especially for the long-suffering parents).
In his final game, Nick got the first two outs in a triple play, throwing to first for the final out. But in the end he struck out with the tying run on second. He still got the game ball for what may have been the only triple play in the league this summer, but all he'll think about all winter is that final strikeout in an otherwise stellar season at the plate. That's the nature of baseball and what makes it such a great game.

And as an amazing counterpoint, my 7-year-old son Max's coach-pitch team went undefeated, with Max actually making contact a few times (at one point scoring on an infield inside-the-park home run ... although there may have been an error or two in there). Nick's team would have traded their Big League Chew for just one of those wins.

Regardless of results, Nick is addicted. He was riveted by last season's no-hitter from Ubaldo -- the first in franchise history – and now he has to face the stark reality that this kid's game is a business first and foremost. If you don't produce, you can get shipped out.
That's a serious wake-up call for a child of winter in America's top ski town who wishes he could be a boy of summer all year-round.
For me, living in Denver 20 years ago and voting for the stadium tax that led to Coors Field and landed Colorado the Rockies franchise, covering their first home game in 1993 at old Mile High Stadium (interviewing Andres "Big Cat" Galarraga in the locker room after the game), getting married during their first playoff run in 1995 and reeling in disappointment during that crushing 2007 World Series – all of these things have culminated in this sad and sorry season of 2011.
But it doesn't matter, I'll be back next season, flush with expectation. I'm no longer a Baltimore Orioles fan, or a Washington Senators fan (or Texas Ranger or Minnesota Twins by extension), or a fan of any of the other cities where I used to live. The Colorado Rockies are my team.
And to any of the transplants to this state who still come out in force at Coors for the Cardinals, or Cubs or – God forbid – Red Sox, I have just one question. If those places and those teams are still so great, why do you live here?
Good luck in Cleveland, Ubaldo. You now live in the city where all sports dreams go to die – thanks in large part to teams from Colorado (see The Drive and The Fumble).
Hopefully, you can reverse that trend, unless you make it to the World Series against the Rockies, which is what should have happened in 2007 (thank you, Manny Ramirez) instead of the asterisk win for the Sox.
Now let's see how soon we get Drew Pomeranz up from the minors. Go Rox.
---

1 Comment on "Field of bad dreams: Ubaldo trade culminates a sorry season all around"