Wildflower explosion makes for stellar hiking, biking in Vail Valley
In my two-plus decades in the Vail Valley, I can never recall such a lush summer season this late into the year.
Up until just a few days ago there was still snow on the lower slopes of Vail Mountain where terrain parks and half-pipes used to be. Snow down low on the ski slopes in late July! Unheard of.
And what it's done is provide plenty of moisture (along with the afternoon thunderstorms that are part of the monsoonal flow this time of year) for the various flora and fauna that make hiking, biking, fishing and boating such a pleasure around Vail and Beaver Creek.
I went for a mountain bike ride with my 11-year-old son on Vail's North Trail earlier this week and was blown away by how green everything is … and by how numerous and glorious the wildflowers are. Some lush little pockets deep in the woods felt more like the Cascades of Washington state than the comparatively arid alpine environs of Colorado.
There are literally dozens and dozens of great U.S. Forest Service trails heading up into the national forest land surrounding Vail. Either side of Interstate 70 Vail is bookended by two incredible wilderness areas (where all mechanized travel is prohibited): the Holy Cross Wilderness Area and the Eagles Nest Wilderness Area.
But before you get to those special places reserved for hikers and horseback riders only (sorry, no mountain bikes), you'll find plenty of unbelievable hiking and biking opportunities on trails leading up into the surrounding White River National Forest.
The best way to figure out what's what is to stop by the Holy Cross Ranger Station one mile south of Interstate 70 on U.S. Highway 24 and pick up some maps. Call (970) 827-5715 to make sure they're open, which they typically are five days a week most of the year as well as weekends Memorial Day through Labor Day. Here are some of their suggested trails re-posted on
Real Vail
.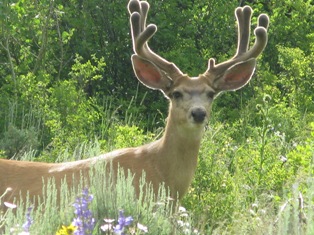 My personal favorites are the trails such as Booth Creek and Gore Range that start in East Vail and climb steeply and steadily up toward the Eagles Nest Wilderness. There are waterfalls and cascading streams plunging from the high alpine meadows, surrounded by shimmering aspen trees and feeding lush carpets of wildflowers. Booth Creek trail ends at 10,000-foot-plus Booth Lake, a beautiful high-alpine lake with spectacular views of the valley below.
But I also like just heading out my front door in West Vail, where Davos Trail is actually a four-wheel-drive road but can be hiked or biked without too much interaction with Jeepers. In fact, I recently took my three boys up there for some quality car camping far from the crowded Forest Service campgrounds.
And the aforementioned North Trail connects with a spur at the end of my street and heads precipitously upward past some beaver ponds and far up above the valley floor (you very quickly lose the highway noise) where aspens abound and the views of both the Gore Range and Sawatch Range are unparalleled. The loop I like then descends to a point where it connects with Davos.
I've encountered plenty of deer, birds of all variety, foxes, beavers and raccoons, and some folks tell me they've seen black bears along that stretch. So make a little bit of noise and they'll shuffle off into the woods before you even get there.
The North Trail is single-track, and, especially down low, expect to encounter both hikers and bikers. The rules of the trail are pretty simple and common-sense and will lead to a better experience for everyone:
Yield to the uphill traveler, stepping or biking slightly off to the side to let them pass; take it easy on the descents so you can brake in time for uphill travelers; keep dogs on a leash to avoid conflicts; and generally just smile and share the trail.
Editor's note: This blog first appeared on
inspirato.com
.
---

3 Comments on "Wildflower explosion makes for stellar hiking, biking in Vail Valley"