Big month of cycling action coming to Vail Valley in August
If you don't have cycling fever lately, you simply don't have a single gear in your head.
Even the most casual of biker generally becomes a raving gear-head this time of year watching the mania of the Tour de France, and in Vail the intensity has ratcheted up even more because a lot of the same riders will be here in a little over a month for the inaugural USA Pro Cycling Challenge Aug. 22-28.
The Colorado stage race was conceived by seven-time Tour de France champion Lance Armstrong, now retired from professional cycling and living part-time in Aspen, and it includes a time trial in Vail on Aug. 25 and a stage from Avon to Steamboat Springs on Aug. 26. The statewide stage race is expected to be the largest spectator event in Colorado history.
The team of three-time and defending Tour de France champion Alberto Contador,
Denmark's Saxo Bank-SunGard
, has confirmed for the race. Contador tried to make a move Wednesday in the first of three stages in the Alps but finished with the top riders and didn't make up any ground. It would be a major thrill to see Contador test himself against even higher altitudes in the Colorado Rockies.
And spectators in the Vail Valley will be able to watch in style.
Various VIP packages
are still available, and 300 lucky riders will also be able to "
Scout the Stage
" on Aug. 26 in a citizen's ride in advance of the pros on the first leg from Avon to Wolcott.
Also this week the Challenge
unveiled the jerseys
for the leaders in various categories during the stage race. One each signed by legends of pro cycling such as Boulder's Davis Phinney — the first American to win a stage at the Tour de France and the last champion of the old Coors Classic — will be auctioned off. Colorado and Vail have rich cycling traditions dating back to the 1970s.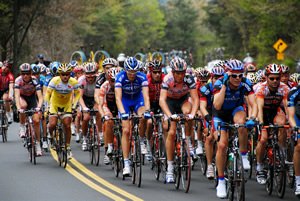 But as much as road cycling is making its triumphant return to Vail, true enthusiasts know that the mountainous terrain surrounding the valley has made it an off-road biking mecca for decades. For example, the Vail Recreation District's (VRD) annual
mountain biking racing series
saw more than 1,750 riders of all ages compete last year – the 27th season for the nationally renowned series. Only two more races — the Boneyard Brawl in Eagle on Aug. 3 and the Beaver Creek Blast on Beaver Creek Mountain on Aug. 17 –- remain on the schedule this season.
And if you don't think there's much of a connection between road racing and mountain bike racing, consider this: Australian Cadel Evans, who currently sits second in this year's Tour de France, is a former World Cup winner in mountain biking.
And, of course, American Floyd Landis, who once seemingly won the Tour de France only to have his title stripped in scandal, got his start in mountain bike racing. Now he dates a Vail Valley woman and has occasionally been spotted about town.
Then there's the cross-over sport of cyclocross, which the VRD will feature in a first-of-a-kind
cyclocross clinic
Aug. 5-7. Taught by Vail's Jake Wells, a national champion in mountain biking and an accomplished cyclocross racer, the Jake Wells Cyclocross Clinic "blends that line between road riding and mountain biking," Wells said. "And, learning cyclocross skills will help you become more proficient at both."
Clearly, Vail is the place to be this summer for on-road and off-road cycling, and August is the month to be here.
Editor's note: A version of this blog first appeared on
inspirato.com
.
---

0 Comments on "Big month of cycling action coming to Vail Valley in August"
Be the first to comment below.