Extinction of Talisman Terry comes hard on the talons of biting Colbert Report satire
Among scientists, debate still rages over what ultimately killed off the dinosaurs. In the case of the loveable frack-osaurus "Talisman Terry," there's no question. It was Stephen Colbert.
The satirical Comedy Central host of "The Colbert Report" took the 24-page coloring book character's adventure to its disturbing but hilarious conclusion last week, showing Terry, despondent over the drilling and burning of his ancestors for fuel,
committing suicide
in a gas-contaminated shower.
A few days later, Talisman Energy, which had been distributing "Talisman Terry's Energy Adventure" to kids in northeastern Pennsylvania, pulled the plug.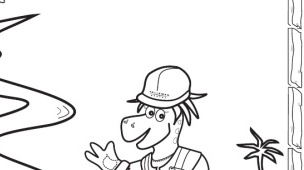 "We're going to take our company's focus to where it should be," Natalie Cox, spokesperson for Talisman Energy USA,
reportedly told Fox News
. "We're not going to continue to dispute the intent of a children's coloring book. There's two sides to every story, but it's not something that we're going to be disputing . . . it's an activity book for young children."
U.S. Rep. Ed Markey, D-Mass., a frequent critic of the natural gas industry and its environmental record, recently blasted Talisman Terry on the House floor: "The loveable dinosaur playfully promotes the benefits of natural gas and paints a picture of a magical world filled with smiling rocks and grinning animals." But Markey says the reality of gas drilling is not nearly as idyllic.
Markey joined Colorado Rep. Diana DeGette, D-Denver, in spearheading a
congressional probe
that found 29 known human carcinogens in hydraulic fracturing fluids. DeGette is running legislation that would compel the industry to disclose those chemicals to the public.
The Colorado Independent
first reported
on Talisman Terry last month.
---

0 Comments on "Extinction of Talisman Terry comes hard on the talons of biting Colbert Report satire"
Be the first to comment below.