Fourth of July sizzles in Vail Valley this summer
A friend of mine emailed the other day to tell me
Arapahoe Basin ski area
just east over Vail Pass in Summit County opens at 8:30 a.m. on Monday, July 4, and we should make some slushy ski turns to celebrate the birth of our nation.
As tempting as it is to indulge in the novelty of such a thing – engaging in a snow sport you typically have to fly to New Zealand, Argentina or Chile to enjoy on July 4 – I had to take a pass, because at that hour I will be staking out the Williams Family curbside viewing plot for the annual Vail America Days parade through Vail Village and Lionshead.
It's an event we've attended for 15 years now, and like Christmas in Vail – admittedly a lucrative time of year to rent out the house and hit the tropics – it would generate serious offspring anarchy if we missed it.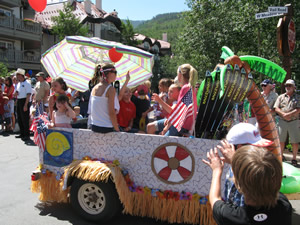 Starting with a herd of Harleys and then running the gamut from inner-city high school marching bands to floats with ski jumps for Ski and Snowboard Club Vail (alma mater of Lindsey Vonn) to
Vail's Precision Lawn Chair Demonstration Team (PLCDT
), the parade has become a somewhat cheesy but hard-to-resist institution.
The temperatures are typically perfect (upper 70s), snow usually caps the high peaks (quite a bit of it this record-breaking season), wildflowers abound, and there's really no better place to beat the city heat. Throw in some off-color local characters like Packy Walker, whose highly anticipated parade appearances always make some sort of statement, and you have a can't-miss ski town tradition.
Walker once dressed in golf regalia and carried a sign that said "Save the Links!" Vail police asked him to leave because of a ban on political statements in the parade. At that time, the endangered Canada lynx, a bobcat-like wildcat, had prompted environmentalists to violently protest Vail's Blue Sky Basin ski expansion. Get it?
The parade is usually followed by a barbecue at someone's home or Bloody Mary's at a local watering hole and then the annual
patriotic concert
at the outdoor Gerald R. Ford Amphitheater featuring the visiting Dallas Symphony Orchestra.
But the parade is just one small part of how the entire Vail Valley lights up for the Fourth of July holiday. The
Vail Lacrosse Shootout
brings some of the nation's best amateur lacrosse players to every conceivable playing field in the valley beginning in late June, then Beaver Creek's popular
rodeo series
kicks off on Thursday, and there are a slew of other events
associated with Vail America Days
as well.
Avon takes the lead
on fireworks, launching what's billed as the state's largest fireworks show over Nottingham Lake on Saturday, July 3.
Beaver Creek has its own fireworks
display on July 4, including live music, and Vail also does its thing at dark on Monday, July 4.
And with all the snow still on the high slopes – there's still the remnants of the terrain park down low on Golden Peak –there are no official open fire bans in effect, and all the shows should go off as planned.
A version of this blog first appeared on
inspirato.com
.
---

5 Comments on "Fourth of July sizzles in Vail Valley this summer"