Springtime means possible flooding, hungry bears and avalanche danger up high
It's hard to gripe too much about our persistent winter-like weather in the Vail Valley when the very same storms continuing to dump snow on our heads late into May are rolling off the Rockies and spawning deadly tornadoes on the Great Plains.
Our collective thoughts and prayers go out to those folks across Tornado Alley who are enduring one of the most destructive tornado seasons in the nation's history – especially in Joplin, Missouri. The width of that storm (three quarters of a mile) and distance it was on the ground (seven miles) is about the length and width of the entire town of Vail.
But all we have to worry about in the mountains these days is a brutally cold spring lingering way too long. Still, as the snowpack increases up high, we actually don't want it to get too hot too quickly. A week in the 80s and some folks whose homes are close to the banks of Gore Creek and the Eagle River could see flooding of their yards and maybe even the lower levels of their homes.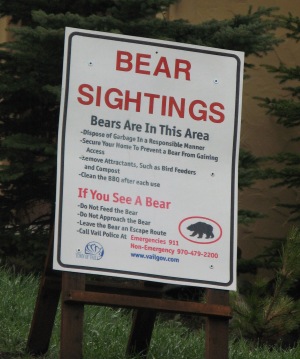 The Vail Valley, knock on beetle-killed wood, is a relatively disaster-free part of the country. A 15-year mountain pine bark beetle epidemic has killed the majority of the mature lodgepole pine trees in the valley, ratcheting up the wildfire danger, but Vail Fire Chief Mark Miller, when asked what kind of wildfire season it will be given all the precipitation, said, "A late one."
"You look out there and say, 'Gosh, how could it burn? It just snowed like a week ago,'" Miller said. "But in essence this does create this false sense of security, and if we had a week of really high temperatures and high winds, we'd be right back into a red flag warning on a continuous basis." The way things are going, though, Miller says peak fire season won't come until August or even September.
Incredibly, the Colorado Avalanche Information Center is warning backcountry skiers, snowmobilers and hikers to beware of the huge snowpack looming up high. As if to underscore their concern, a snowboarder was killed Saturday in an avalanche in Dead Dog Couloir on 14,267-foot Torreys Peak in nearby Clear Creek County.
And then we always have wildlife concerns. A pack of coyotes killed a woman's dog in the Aspen area last week, prompting an alert from the Colorado Division of Wildlife, and then on Wednesday I spotted a coyote walking along the side of Interstate 70 near Avon.
Typically reclusive and nocturnal animals, coyotes can become emboldened in a pack, but are only really a threat to house pets. Mountain lions, on the other hand, will stalk and kill children and even adults – although attacks are rare. A cougar charged two young girls in the Denver suburb of Wheat Ridge on Sunday, and they've been known to stalk hikers and mountain bikers in the Vail Valley, although no one has ever been fatally attacked.
This time of the year, black bears are coming out of hibernation and not finding many berries to eat due to the cold spring. The town put of up a bear warning sign (see picture) this week in my West Vail neighborhood, mostly wanting people to keep an eye out, secure their trash and close their garage doors.
All in all, the disaster danger level is quite bearable in the Vail Valley.
Editor's note: A version of this blog first appeared on the Inspirato website.
---

57 Comments on "Springtime means possible flooding, hungry bears and avalanche danger up high"