Snow just keeps falling on Vail nearly a week after chairlifts shut down
Vail got another foot of snow last night, nearly a week after the mountain closed for the season, and the first part of the week saw probably another two feet fall. If the ski mountain was still open and they still measured snowfall at the top, we'd probably be pushing 600 inches of snow this season. Now I'd like to ask the snow gods to save some for next season.
Most Vail Valley locals scatter like snowflakes when the chairlifts shut down, which happened on Easter Sunday with a foot of fresh snow still on the ground. Especially when those cabin-feverish locals can't ski anymore and it just keeps snowing, which is what happened all week.
For the record, the final record-setting tally was 524 inches of snow at mid-mountain this past ski season, breaking the old marks of 505 at the top of the mountain (set in 1977-78) and 458 at mid-mountain (set in 2007-08).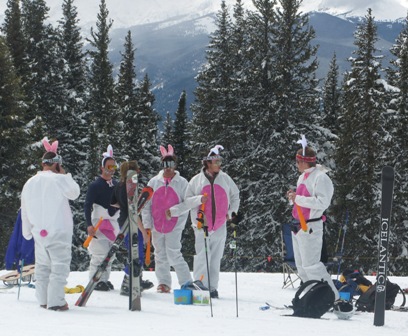 A few diehards will keep ascending the mountain with climbing skins attached to their telemark skis and making powder turns in the morning before warmer spring temperatures turn any new snow into spring cement, but the vast majority of snow riders like their turns lift-served.
For those less hardcore folks who don't want to "earn their turns," Arapahoe Basin ski area (about an hour to the east of Vail in Summit County) will stay open until early June. It's part of the Vail Resorts Epic Pass season pass, so there's no extra charge for skiing "The Legend," as the Basin is known, almost into summer.
Loveland Ski Area, about an hour east of Vail on Interstate 70, is open until Sunday, May 8, and is offering $30 lift tickets to season pass holders from other resorts that are already shut down, which is most of them. Sounds like a good Mother's Day outing.
Arapahoe Basin is reporting eight new this morning and Loveland is reporting five. Once again, Vail got the lion's share, but what good is it if you can't ski it in your own backyard?
After a long, powdery ski season, the vast majority of us just want to trade in our ski boots for flip-flops and head to Cabo San Lucas, Maui or Moab, Utah, with our mountain bikes on the back of the SUV.
I've often said if we didn't push so hard to get the resorts up and running in the fall, when the snow is often marginal (sometimes nonexistent) and resorts are forced to rely heavily on snowmaking, snow riders wouldn't be so burned out by early April and ready to call it a season when the snowpack is often at its deepest.
The resort answer typically is that people in key destination markets like New York, L.A., Chicago and Dallas are surrounded by green grass and are far more focused on golf than skiing. My theory is they wouldn't be so much in that mind-set if ski areas set more realistic opening dates of mid-December (instead of pre-Thanksgiving) and then marketed April and even early May a little harder.
In the meantime, most ski towns become ghost towns when the lifts shut down, and that's certainly the case in Vail, but earlier this week I had lunch with a friend visiting from Washington, D.C., who said he found it strangely serene and relaxing. Nothing like a deserted alpine village with snowflakes gently wafting from the sky.
And restaurant, retail and lodging deals abound this time of year. You have to call ahead to make sure places are still open (a lot of shop owners shutter the place and head for the beach, too), but some of Vail's best restaurants offer half-off deals to entice any kind of off-season business.
For example, one of my favorites, La Tour, is doing 50-percent-off entrees, and with a coupon sent to anyone on their email list, the modern French-American fixture is offering a free "Intense Jasmine Cocktail," which won the recent Taste of Vail Mixology Contest's "People's Choice Award" for best cocktail. That offer is good through April 30.
Since I have no travel plans until early June, you now know where you'll find me in May.
---

0 Comments on "Snow just keeps falling on Vail nearly a week after chairlifts shut down"
Be the first to comment below.