Vail sets all-time record for most snow in one ski season
Vail closes the curtain on the 2010-11 ski season Sunday, and no matter how (or where) one measures, it's been a very snowy curtain – one for the record books in fact.
Officially, as of Friday morning, April 22, Vail has had 511 inches of snow fall between opening day in mid-November and closing weekend. That's closing in on 43 feet, and it's a record for mid-mountain, where the ski area has been measuring snow since the 2000-01 ski season.
It's also a new record for the top of the mountain at Patrol Headquarters (PHQ), where the resort kept he official snow stake for its first 39 years of its existence. It was moved down lower to give a more representative number since it tends to snow more at the top of the mountain (PHQ is at 11,250 feet) and less at the base (Vail Village is about 8,150 feet).
The previous record for mid-mountain snowfall was 458 inches during the 2007-08 ski season. The all-time record at PHQ atop the mountain was 505 inches during the 1977-78 ski season. So 511 inches is a record for anywhere on the mountain and officially makes 2010-11 the snowiest ski season in the 48-year history of Vail.
All of this may seem a bit arcane to folks who don't live in ski towns, but it's a big deal to those of us who live for powder days. It's like remembering record surf if you're a beach bum or telling fishing stories if you snagged a record rainbow trout.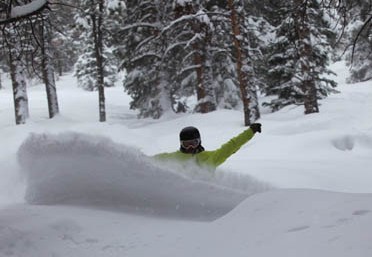 Since I live in West Vail, I typically don't go up on the mountain unless it's snowed at least a few inches overnight. I can be selective, and I choose to ski when it's soft underfoot. With 47 ski days recorded so far this season (40 of them at Vail), one can assume that most of those were powder days of at least four inches. That's a good season any way you measure it.
But now, even the most hard-core of local skiers is pining for some serious Rocky Mountain sunshine. The big crowds thinned out by the end of March, the temperatures have steadily warmed up, and virtually everyone would love to see bright sunshine and classic, cobalt-blue Colorado skies. But, as is typically the case for closing weekend, more snow will likely fall.
About the only people hoping for more snow during late April and May (know in these parts as "Mud Season") are rafting outfitters. They like to see a very gradual spring run-off so that by the time the summer crowds return in mid-June the local creeks and rivers are still roaring for the throngs of rafters and kayakers. In fact, a sudden heat wave could be disastrous in some areas of Eagle County, such as East Vail, which has a history of spring flooding.
Things will also be very wet at Vail's Golden Peak this weekend, where the Spring Back to Vail celebration officially closes out the season. Stephen Marley will play a free concert on Saturday and Sierra Leone's Refugee All Stars will close out the season with a free show on Sunday after the World Pond Skimming Championships.
One final note on my blog from last week. Vail Resorts has lowered the price on its adult Epic Pass season ski pass from $649 to $629 for anyone buying before May 8. That's unlimited, unrestricted skiing at seven ski resorts – Vail, Beaver Creek, Breckenridge, Keystone and Arapahoe Basin in Colorado and Heavenly and Northstar-at-Tahoe in California.
Editor's note: A version of this blog first appeared on the Inspirato website.
---

28 Comments on "Vail sets all-time record for most snow in one ski season"