Close out incredible Beaver Creek ski season in style at Westin Riverfront Resort and Spa
This weekend is your perfect Westin Riverfront weekend. It's April, the sun's warm and the resort is at the base of Colorado's World Cup mountain, which is piled with snow and where Beaver Creek runs remain open to skiers and snowboarders through Sunday.
These are the last days of the season and yet in just the last week more than a foot of snow piled atop the 367 inches that have already accumulated on the mountain since the fall.
This is it. Fake an illness for the rest of the, book a room and start your next couple of days riding as many as you can of the 85 trails that snake over Beaver Creek's 1,180 acres. Return to the Westin in the afternoon and stroll out with a drink to the hot tubs or to the saline lap pool or both and watch the steam rise and clouds race in front of the mountains and the snow drift down onto your bare skin and melt.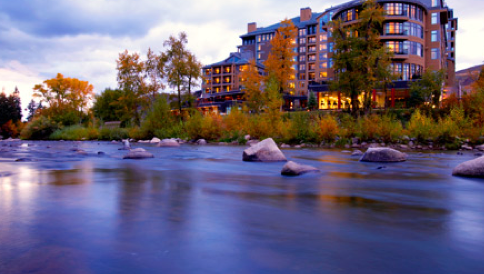 That's what I did a few weeks ago, when Nottingham Park in Avon, a few blocks from the hotel, hosted the Snowball music fest. That weekend, the Westin welcomed families with young kids and dogs, twenty-something music and fashion fans, well-heeled older couples and somehow managed to pull it all off with understated style. There was an after-party in the lobby wine bar one night, where elegant hotel guests mixed with fashionable rave goers and everyone seemed to be having a very good time.
That's a good trick for any place to pull off, but experiencing it at a top-notch hotel with a full-service spa and gym and a terrace that's laid out beside the Eagle River impressed as the product of a particular and welcome vision on the part of management. That's good work and it produced good energy, too, as they say in Boulder, young and interested and positive energy on all sides.
For dinner, there's the Restaurant Avondale sited off the lobby and run by Thomas Salamunovich, a Wolfgang Puck-Paul Bocuse acolyte. The restaurant's upbeat spare design suits its West Coast menu. There's nothing heavy and everything's delicious. We ate simple salads alongside hand-rolled pastas, hand-tossed pizzas and house-made charcuterie, all downed with lots of house-selected wine.
Beaver Creek is hosting the Vintage Ski Fest and The Jimmie Heuga Vintage Ski Race returns on Saturday. As RealVail reported this week, the event is a throwback to the 1940s and will feature competitions on the Haymeadow Race Course complete with canvas competitor bibs, hand-painted banners, natural bamboo gates and an old-fashioned scoreboard.
Bring your vintage gear and fashion apparel and compete to win prizes that include Epic Passes and American Airlines tickets.
Call in sick to work. Do it now.
---

38 Comments on "Close out incredible Beaver Creek ski season in style at Westin Riverfront Resort and Spa"