Chasing Vail Resorts CEO Rob Katz on EpicMix? Good luck with that
So I was feeling pretty good about myself the other day at Vail. It was one of the better powder days of a stellar season packed with memorable snow days, and when I got home and logged onto my EpicMix account I found out I'd gone "Over the Moon," the virtual pin designating more than 350,000 vertical feet of skiing. I did it in 36 days at three Vail Resorts' mountains – mostly Vail – and if you include two days each at Crested Butte and Snowmass, I'm right at 40 ski days for the season.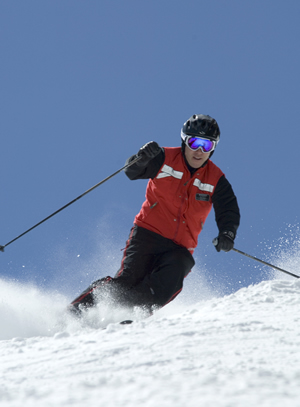 Then I logged onto Twitter and found a tweet on Vail Resorts CEO
Rob Katz's account saying he earned his "Orange Slices" pin on March 23
for exceeding 500,000 vertical feet. Doing some quick math, if I topped 350,000 vertical (remember, Vail Mountain top to bottom is 3,000 vertical feet) in 36 days, that's about 10,000 vertical a day. So Katz has to be at least at 50 ski days, and on March 22 he also earned his "Smorgasbord" pin for "hitting all five mountains this season."
Suddenly, I wasn't feeling so "Over the Moon".
Don't get me wrong, I don't begrudge Katz, the SkiEO who lives in Boulder, his 50-plus days on snow. In fact, I think it's a great thing that he's on his mountains so much, seeing what works and what doesn't work, and that he's often going through what a lot of his Front Range customers have to go through to get to his four Colorado Resorts.
I even think it's a good thing he's been out to Heavenly this season so his California holdings don't feel left out in the cold (although shouldn't that pin now include Northstar-at-Tahoe?). And I would be the last guy to bash him for spending too much time on the snow instead of chained to a desk obsessing about what the shareholders want.
No, I'm just pissed that he's so far out ahead of me on EpicMix.
At first I thought the ski-tracking platform with the heavy social media component was a serious geek-fest – like the guy at heli-camp who repeatedly brags about his 20,000 vert that day instead of just blissing out about that one perfect run where it all came together over the course of 30 perfect turns in thigh-deep powder. I'm a quality over quantity kind of guy.
And given the multiple hats I wear – father of three boys ages 10 to 4,
energy and environmental reporter
for the Colorado Independent,
occasional talking head and "energy expert
" on TV and radio, managing partner in the Real Vail and Real Aspen websites – I'm always pretty psyched if I get 45 days in one ski season. That's a month and half of the year on skis.
I'll get there again this season, and I'll likely at least earn my "Lincoln (Four Score)" pin for 400,000 vertical. But I'm likely not going to achieve Roosevelt (Airborne Division) for 450,000 and I'm definitely never going to sniff "Orange Slices" for 500,000. Unless we count those days at rival resorts Crested Butte and Snowmass, but that's a whole different ski-tracking system – one that likely involves satellites and GPS.
Anyway, I've now overcome my EpicMix aversion, which in no way absolves it of its geek-fest status (in fact it probably enhances it). The competitive nature of EpicMix and of recreational skiing itself is what makes it worth logging onto. You can tweet your buddies who are stuck in their cubicles in New York and you can rank yourself among those who clearly have too much free time on their hands.
Of course, to do that you have to make your profile public, and that's where I draw the line. Given my multiple work hats, I don't need everyone knowing I just bombed Genghis in a foot of fresh.
---

90 Comments on "Chasing Vail Resorts CEO Rob Katz on EpicMix? Good luck with that"