Book Review: The Wind Knot
A mystery by John Galligan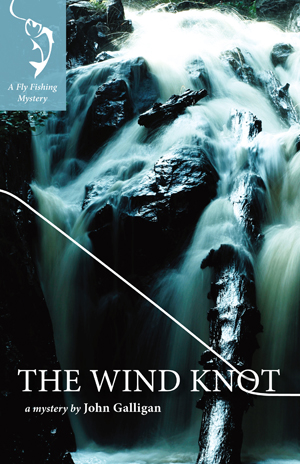 Sometimes, you just want to be left alone.
Sometimes, you don't need help or comfort, and you certainly don't need company. You want to think, solo, without another body nearby. Or you want to sulk, and it's hard to sulk with a group.
Everybody clear out. You want to be left alone.
In the new novel "The Wind Knot" by John Galligan (c.2011, Tyrus Books – $24.95 / $27.50 Canada, hardcover – $14.95 / $18.00 Canada, paperback – 328 pages), Ned "Dog" Oglivie thought he was unaccompanied on his trip back to New England for his son's birthday.
And then he found the corpse.
Dog was done with fishing. He was done living in his RV, done trying to run away from hurt, done regretting. With a thousand bucks stashed away - payment from Dolf Cook for a fish that Dolf didn't catch - Dog was heading home. In three days, it would be Eamon's birthday.
Or would have been, except Eamon drowned in a bathtub six years before. Heartbroken still, Dog torched his fishing gear and quit. It was time to leave Michigan's Upper Peninsula, through Wisconsin, and head to Massachusetts.
But somewhere near Chicago, Dog smelled it: nasty, like muddy body odor coming from his bunk. "It" was Dolf's brother, Heimo Kock, self-described "Governor of the U.P.", swollen and purple-bruised, with fly line wrapped tightly around his neck.
In a Tang-and-vodka-fueled panic, Dog turned the RV back toward Duluth. Somewhere in the Northwoods, there had to be a place to drop Kock's body…
Esofea Maria Smithback absolutely adored the book Pippi Longstocking. So when she saw a man roll a body into the Two Hearted River, she wondered WWPD? Surely, Pippi wouldn't have allowed some varmint-face to get away with murder? Surely Esofea's boyfriend-ex-boyfriend Danny Tervo was involved.
Deputy Margarite DuCharme had all kinds of troubles. She'd tried to keep her personal life secret but her lover, Julia, got drunk at the community picnic and now everybody knew. Then there was her friendship with Sheriff Bruce Lodge, which was in question because he thought she lied to him.
But the biggest problem was that just about everybody in Marquette County hated Heimo Kock. And many of them used the same kind of fly line that killed him.
Part romp, part mystery, part high-brow literature, it could be argued that "The Wind Knot" can be hard to follow. One could say that it's got an awful lot of characters to keep track of. But, contentions aside and overall, it's hard to argue with a hero like the Dog, even though – surprisingly – Dog doesn't have much to do in this book.
Author John Galligan's main hero is on the periphery this time, surrounded by eccentrics and scofflaws, still smarting from old pain. Those story keys lend a certain humanity to the unlikely, grizzled fisherman-cum-detective: Dog is flawed, which makes it easy to love him and easy to love this novel.
For mystery fans who don't mind a little literary-ness in their novels, "The Wind Knot" is a good catch. Reel in this book, and you won't be able to leave it alone.
---

40 Comments on "Book Review: The Wind Knot"