'Big one' misses Vail, but little dumps keep mountain fresh for First Tracks, soft tree runs
Conditions were far from epic Tuesday at Vail, but they were still pretty good. The "big one" that was supposed to hit Monday and Tuesday turned out to be a disappointing continuation of the recent pattern of warm, wet dribs and drabs of new snow over the past five days.
Vail reported only one inch new Tuesday morning when some forecasters were calling for one to two feet of fresh snow. Those totals happened down in Colorado's southwestern mountains, but the state's northern and central mountains got the meteorological equivalent of the Heisman Trophy stiff arm.
Still, something is always better than nothing in the powder-skiing world, and all-told we've seen about a foot of new snow in the last week. At many ski areas around the country, that kind of accumulation would qualify as epic.
And Tuesday, even though Vail only reported an inch, it actually started snowing much harder after the 5:30 a.m. snow report, with four or five more inches falling on the few skiers who decided to head up anyway. North and east-facing slopes were surprisingly good, and north-facing tree runs were actually very good.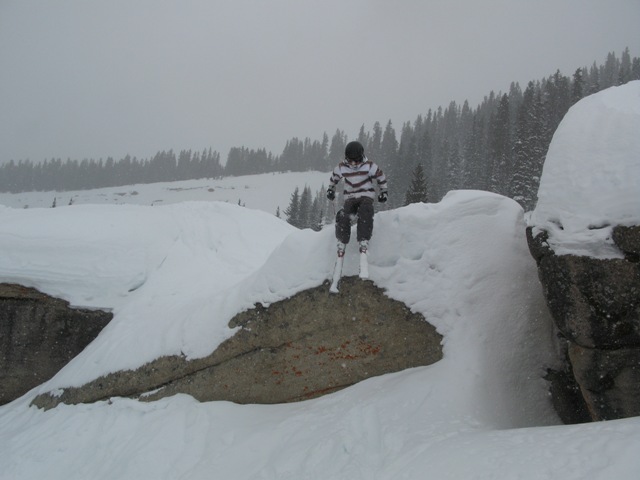 And today looks like possibly the best day of the week, with Vail reporting six new and snow still lightly falling at 7 a.m. in West Vail. Get out and enjoy it if you can because a true warming trend is on the way for the weekend. Overall, Vail has had 378 inches so far this season, which is nearly two and half feet more than our seasonal average of 350. So it's been a good year.
In fact, every day that I've headed up since March was supposed to start coming in like a lion late last week I've been pleasantly surprised at the relative softness of the hill given the warm temperatures. Typically those temps lead to melting, overnight freezing and then the proverbial "dust on crust" effect if anything less than five inches of new snow falls.
But on Saturday the mountain was softer than I thought it would be after four inches new overnight Friday, and then again Sunday it was still pretty good when I headed out at 7:30 a.m. for First Tracks with my 10-year-old son Nick.
Hosted by Vail Resorts' Echo program, this First Tracks was with the Walking Mountains Science Center (formerly Gore Range Natural Science School), which is a great environmental education program that's just moving into a brand-new building in Avon.
My kids have done some of their programs through the local public schools and loved the experience. But Sunday Nick was just in awe of getting to head up the Vista Bahn a full 40 minutes before the general public.
Yes, some new snow is always desirable for First Tracks (and zero was reported Sunday morning), but it's still so absolutely serene and somewhat surreal to have Vail Mountain to yourself at that hour of the day.
Nick took me down North Rim, a jarring first run, but after the initial drop-in over the rock band, the east-facing aspect and leftover fluff from Friday made it a great wakeup call. We then did one run on Wow just to experience the emptiness of the Back Bowls and then two in Buckskin Glade, which all the Devo kids apparently call "Python." The snow in there was really good.
After a great breakfast at Eagle's Nest with the Walking Mountains folks and executive director Markian Feduschak delivering a riveting (I'm not being facetious) presentation on the intricacies of snow crystals, Nick and I set off to find his Devo group, which by then was deep in the wilds of Blue Sky Basin.
We had a ball hopping off rocks on Lover's Leap, or at least the kids did, and then I went front side and called it a day. Nick skied till the bitter end for a true eight-hour ski day and what had to be more than 30,000 vertical feet.
Now that's epic.
---

7 Comments on "'Big one' misses Vail, but little dumps keep mountain fresh for First Tracks, soft tree runs"