On your marks, get set, NASTAR!
KEYSTONE — Boulder native A.J. Kitt spent a decade on the U.S. ski team, scored 21 top-10 World Cup finishes, and won a bronze medal in downhill at the 1993 World Alpine Skiing Championships, all the while competing against the world's best. Today, for the cost of a hamburger, you too can race against Kitt — sort of.
Interested in seeing how you measure up? Then head to your nearest NASTAR course, slide into the start gate, focus your mind, and charge onto the course.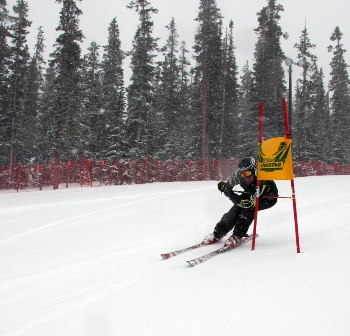 Roughly 20-25 seconds later, assuming you don't crash, the announcer in the finish hut will announce your time. And while you wont find Kitt in the course next door, as NASTAR's national pacesetter, his previously-set time determines whether or not you win one of the coveted NASTAR medals: platinum, gold, silver or bronze.
Welcome to the world's largest amateur ski racing program. Founded in 1968, NASTAR (short for, national standard race) has operations at more than 100 ski resorts across North America, and has recorded in excess of 6 million skier days since its inception.
Courses vary slightly from mountain to mountain, but the goal is make it accessible to novices and experts alike, while maintaining consistency from resort to resort. That way racers from across the country can accurately compare times even if they've never actually raced against each other. All results are recorded and logged on the NASTAR.com website, which also includes a national ranking system.
"People really have fun pushing for time and trying to jump from medal to medal," says Ariss Haman, who works full-time in the start hut of Keystone Resort's NASTAR operation, which can be found skier's right of the Summit Express chairlift near the top of the resort's front-side area. "We tell them how much time they need to shave to get to the next medal and sometimes they'll push all day to get it."
Vail's NASTAR operation is located just east of Chair 2 off Avanti. Ski through the big log corbel and registration is located in the log cabin at the top of Black Forest Race Arena. Daily hours of operation are Wednesday-Sunday, 10:30 a.m. to 3 p.m. with registration closing at 2:45pm. Cost is $10 for two runs or $12 for unlimited runs during the day of purchase.
The daily par time, as it's known, is actually set by one of three local pacesetters, who've previously competed against Kitt to determine their personal handicap.
In turn that daily par time (which fluctuates based on snow and course conditions, and the difficulty of the gate set) is combined with an age-group multiplier to determine individual results.
For 63-year-old Carol Clothier it's platinum or bust. "My son was a racer so I figured I should try," says Summit County-resident Clothier, adding that she races almost every day the Keystone operation is open. "I ski 6-7 days a week, so I'm always going for platinum."
Clothier is emblematic of the NASTAR audience, which Keystone competition services supervisor Ron McNaughton says runs the full age and skill gamut.
"We've had three-year-olds and 73-year-olds," reveals McNaughton. "We try to keep it family oriented and fun. Most of our racers show up in regular ski gear, not skintight race suits."
One of NASTAR's biggest draws is being able to go as fast as you can without fear of ski patrol punishment. "You can race all-out, side-by-side with your buddy and not worry about getting into trouble," adds McNaughton. "That appeals to a lot of people."
And those who truly excel at NASTAR get a chance to claim greater glory on March 24-27 at the annual NASTAR National Championship at Winter Park Resort. This year, over 1,200 people are expected to compete in the three-day event.
Note: This story originally ran in the Boulder Daily Camera Newspaper.
---

6 Comments on "On your marks, get set, NASTAR!"