Steep, soft and secluded: three great reasons to escape to Crested Butte
Far from the I-70 madness, Crested Butte has it all: funky town, fantastic restaurants and killer ski terrain
This time last week I was with my family in Crested Butte, where we saw very similar weather to what just passed through the Vail Valley this past weekend. We had about a foot of new snow over a couple of days and then the sun broke out in force for a glorious holiday Monday, sans the mega-crowds that are both the blessing and the curse of the I-70 corridor.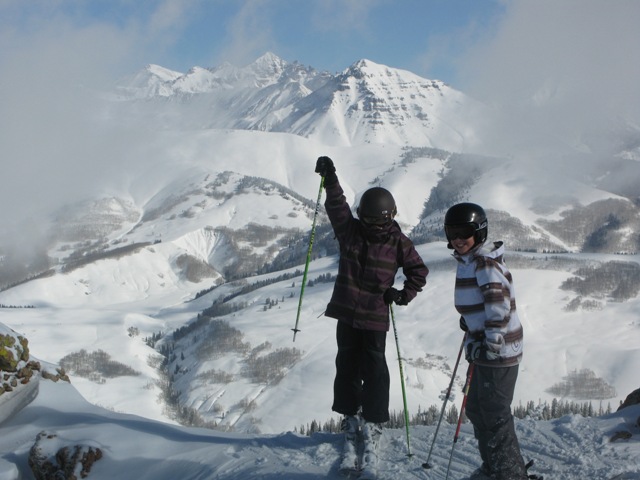 In fact, we went down to Crested Butte with a family from neighboring Summit County that we ski with on weekends in Vail as they try to escape the Front Range weekend hordes by heading west over Vail Pass. Eventually, Vail/Beaver Creek locals are going to have to head to Aspen and Crested Butte on weekends to dodge the Denver, Summit invaders.
Kidding, we love you all. All 20,000-plus of you that I skied with in Vail's Back Bowls on Saturday.
Seriously, 20,000 would be a good couple of weeks in Crested Butte, which is 230 miles and a solid four-hour-plus drive from Denver. It's a true destination resort, with many out-of-state skiers flying into Gunnison just 30 minutes away. That makes for a serious sense of solitude and escape, but it also probably makes it tough to survive in the current down economy.
While first lady Michelle Obama and daughters Sasha and Malia were dodging relatively large crowds skiing Vail over the Presidents Day weekend – and dining on ribs at Vail's Kelly Liken restaurant – we seemingly had runs like the Headwall, the North Face and Spellbound to ourselves at Crested Butte.
The slope-side Elevation Hotel – a classic ski-in, ski-out concrete hulk no doubt built in the ski-boom days of the 1970s and 80s – has been beautifully remodeled for the 21st century, with plush guest suites and cool, contemporary common areas (with the exception of the cramped pool area). But it has a killer spa and fitness facility and a good bar and restaurant named 9380 after the Butte's base-area elevation.
That's pretty high for a base area (Vail's is 8,150), so the north-facing aspects of most of Crested Butte's daunting terrain means snow stays high and dry for days after a storm. CB this season has already exceeded its seasonal average of 300 inches of snow, and we found plenty of soft stuff everywhere we went on the 1,167 acres of skiable terrain. In other words, it's a good season to pay a visit if you haven't been down to the Butte in a while, especially with the
Elevation offering half off
on your second night.
It's nice to ski something so steep you can't daydream because we lack that terrain at Vail. You can pretty much put the hammer down on most of Vail Mountain, pushing your skis to limits you wouldn't dare approach on mountains like Crested Butte, but in a lot of ways that's what I like about Vail. It's a gentle giant – the Grand Traverse if you will – that keeps us all feeling heroic on snow later in life than a humbling hill like CB or Alta/Snowbird or Jackson Hole.
But clearly Vail still produces some amazing skiers, such as arguably the greatest American alpine racer of all time, Lindsey Vonn. And just a couple of days before we came to town, a slew of Ski and Snowboard Club Vail big-mountain skiers ripped it up at the Junior Freeskiing Championships at Crested Butte. SSCV's Erik Hilb, who won the 12-14-year-old division, is the son of Dave Hilb, whom I used to cover on the pro mogul tour back in the day in Vail.
SSCV coach Garrett Scahill said the team trains on Vail's short but still steep pitches like Prima Cornice, Rasputin's Revenge, Lover's Leap, North and South Rim and the Chair 4 cliffs. Still, Vail (and even Beaver Creek) can't come close to the Butte when it comes to sustained steeps.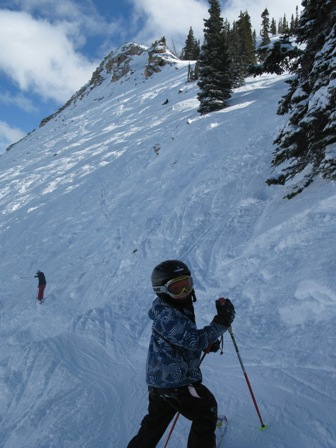 My 10-year-old son Nick and his buddy Wyatt insisted on taking me down what Crested Butte ski patrol told me is the steepest cut, inbounds run in North America. "Rambo" involves a rocky entrance at 56 degrees, but it's fun after that. Someone told me Rambo slid all the way to the dirt when five feet of snow fell in November and only reopened in January.
We also got ourselves into some very gnarly chutes at the top of Spellbound Bowl and worked hard on our jump turns on the beautiful 50-degree pitches of Big Chute down into Paradise Bowl. Very good stuff.
But don't get the wrong idea. My four-year-old son Rennick had an absolute blast in the Crested Butte ski school, finding plenty of mellower trails to work on his french-fry turns and hockey stops. And after a little coaxing, my seven-year-old son Max wound up having a great time on the famous double-black North Face (he also enjoyed cruisers and terrain park runs on the East River Express lift).
Overall, only 20 percent of Crested Butte's terrain is the butt-puckering extreme stuff. An overwhelming 57 percent is actually intermediate. But what's great is it's a relatively small and uncrowded mountain where the family can spread out and not worry about getting hopelessly separated. And for those in your party surging with testosterone, there's the ability to hike the Peak and jump into stuff like Upper Peel and Banana Funnel.
The best part, though, may be the après activities. Grab an Avalanche drink at the Avalanche bar and grill (but just one), jump on the frequent and free shuttle down from Mount Crested Butte into town and you're transported to a Victorian mining village loaded with 1880s charm and killer restaurants. Our favorites with the kids were the Secret Stash, a funky bohemian pizza place, and the Ginger Café – one of the best Asian restaurants I've ever encountered in a ski town.
All in all, Crested Butte makes for a great escape from the Front Range craziness along the I-70 corridor. It's a throwback to the roots of skiing, but one trimmed with all the accessories of the modern ski trip: great restaurants, posh lodging, etc. As one New York couple told me in the hot tub at the Elevation, "We sure hope more people don't discover this place."
---

305 Comments on "Steep, soft and secluded: three great reasons to escape to Crested Butte"