Is Vonn a Cutler-esque wuss for playing it safe at Worlds after concussion in training crash last week?
Vail ski racer Lindsey Vonn got a lot of unsolicited credit a couple of weeks ago for spraining the MCL in one of her knees, shaking it off and winning a World Cup super G race. It was the same weekend former Denver Broncos quarterback Jay Cutler sat out most of the second half of the Chicago Bears' loss to the Green Bay Packers in the NFC Championship Game, nursing an MCL injury.
Now Vonn is having a rough week at the World Alpine Skiing Championships in Garmisch after crashing in giant slalom training last week in Austria and suffering a mild concussion when her head slammed into the hard snow at high speed. Vonn admitted she was in a fog in Tuesday's super G, finishing seventh, and she skipped downhill training Wednesday and may miss Friday's super combined event.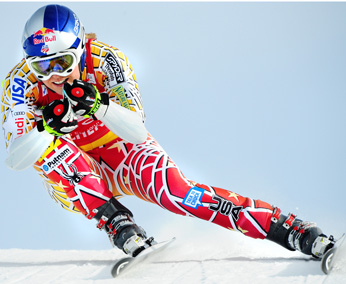 Vonn did complete a downhill training run in Garmisch today, skiing at a lower intensity level. According to the U.S. Ski Team's Dr. William Sterett, of Vail's Steadman Clinic, an evaluation of Vonn after training came up negative for concussion symptoms. But it's still not certain if she'll compete in the super combined.
Does that caution make her a wuss, ala Cutler? Hardly. First, even the NFL is starting to take concussions far more seriously than the old days of "Man up and get back in there … you just got your bell rung." And second, much as Coloradans want to hate Cutler, his hangdog demeanor aside, it looks like he was justified in sitting out the Green Bay game.
I talked to several Bears fans on the chairlifts at Vail the last several days and my highly unscientific survey found they don't blame Cutler one bit. And if he had a concussion like the one Vonn got last week, there wouldn't be any discussion at all.
Ski racing at 60 to 70 mph with your head full of cotton would actually be foolhardy. Not to compare myself to elite athlete, but I was skiing the powder in Earl's Bowl at Vail the other day, hit some wind-blown crust at high speed (for me anyway), cart-wheeled and hit my helmeted head on relatively soft snow. The rest of the run was a wobbly one, and I wound up calling it a day after a couple of more runs.
Hitting your head skiing (or doing anything for that matter) shakes your confidence. But that's a new side of Vonn that the ski racing world – and certainly the general public – has never really seen. Skiing injured in big events is definitely of part of her lore, but not skiing because of her "rung bell" and expressing shaken confidence and doubts about the course conditions? That's somewhat new.
Everyone remembers her horrific training crash in Italy before the 2006 Winter Olympics, when she was airlifted and spent a night in a Torino hospital but came back to place top 10 in downhill and super G. And last year she famously fought through a bad case of "shin bang" to win the coveted gold medal in downhill at the Vancouver Winter Olympics.
But now, the ultra-fit, seemingly robotic collector of World Cup wins (with 39 she is now fifth on the all-time wins list for women ski racers) seems to be having some second thoughts about the risks inherent in her chosen profession.
Part of it must be having nothing really left to prove. She already has four World Championships medal, including two golds. And while the rest of the ski-racing world holds Championships in high esteem, placing them second in importance only to the Olympics, Americans will only remember Vonn for that Olympic gold last year.
Even winning an American record fourth overall World Cup title (she currently shares the record of three straight with the legendary Phil Mahre) won't do any more to cement Vonn's reputation here in the States. So why risk it all by proving something she doesn't really need to prove? That seems to be the thinking for her right now at the Worlds.
She seems to have a pretty clear career path in mind. Keep winning 10 or so World Cups a season until she eclipses the women's career record of 62 held by Annemarie Moser-Proll (sorry, the men's record of 86 by Ingemar Stenmark will never be broken); get another Olympic gold or two in Sochi, Russia, in 2014; and retire in a blaze of glory after perhaps winning still one more medal at the World Championships at Vail and Beaver Creek in 2015.
She's only 26 now and would only be 30 then. Plenty of time to start a family and ease into a life of ski-resort ambassadorship or whatever else she has in mind. Meanwhile, it's interesting to watch Vonn's teammate Julia Mancuso, who has one more Olympic medal (3) and as many World Championships medals (4) as Vonn but is viewed as a "big-event" racer not interested in putting in the work to win consistently on the World Cup circuit.
The off-season wind-surfing "Princess" of the tour, Mancuso has as many World Championships medals as regular World Cup wins, but she stared down the brutally icy, bumpy super G course Tuesday and grabbed a silver medal, just .05 seconds from the gold.
O Bits
The Philippon Connection
What athlete got the most post-Super Bowl buzz? If you answered Green Bay QB Aaron Rodgers and his inevitable trip to Disneyland, you'd be close. But actually it was New York Yankees third baseman Alex Rodriguez, whose popcorn-munching session with actress Cameron Diaz at the big game in the Big D stole the show.
What do Rodriguez and Mancuso have in common? Both had their hips worked on by the Vail-based Steadman Clinic's Dr. Marc Philipppon, the so-called hip doctor of the stars.
The final snow tally
The storm cycle that rolled through the Vail Valley Friday and didn't really let up until Tuesday left a grand total of 41 inches of new snow at Vail, bringing the season total to 322. That's just 28 shy of the seasonal average of 350, with two and half months of ski season left. Beaver Creek finished with 31 inches for a seasonal total of 227.
Hope you got out and enjoyed it because high pressure is building in, chasing off brutally cold temps the last couple of days. It will be nice to ski in the sunshine and temps in the 30s this weekend, but the next shot of new snow isn't until the middle of next week.
---

186 Comments on "Is Vonn a Cutler-esque wuss for playing it safe at Worlds after concussion in training crash last week?"