Unimaginable storm cycle just keeps dumping on Vail, Beaver Creek
After a brief lull in the snow this evening (it never really stopped, just lightened up a bit), it was again officially "puking" snow in West Vail at 9 p.m. after pretty much snowing all day.
Forecasts call for 7-10 inches tonight and another 2-4 Tuesday to wrap up an unimaginable storm cycle that officially had already produced 30 inches between Friday evening and Monday morning at 5 a.m. Since then it snowed all day and into the night. We could be talking about 4 feet over 4 days when all is said and done.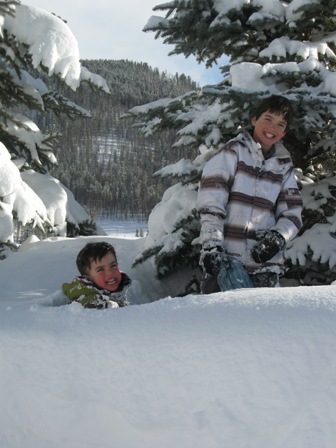 And just think, it was only a couple of weeks ago when we were in similar storm cycle that produced similar totals. Really, it's been about eight feet in the last two and half to three weeks. Not too shabby.
Our driveway in West Vail has basically become a tunnel. During a brief break in the snow Sunday afternoon, the kids and I tried to carve out a bit of sledding hill on a steep road that passes through our property (see below video). We were up to our armpits.
To heck with sledding it. Or shoveling it. The only thing you can really do with all of this snow is get out and ride it. Everyone's saying it may be too deep tomorrow. That's a good problem to have.
Get over the pass early – if you can – in case CDOT decides to do avalanche control. Chow a breakfast burrito on the lift. And head for the steepest terrain you can find.
This will be a day you'll remember for years to come.


---

233 Comments on "Unimaginable storm cycle just keeps dumping on Vail, Beaver Creek"