Mother Nature queen of Colorado
More snow on its way
I'll keep this quick. Snow has been falling in Vail since Friday: 30 inches on the ground and more on the way. Beaver Creek is just behind for the week, with 11 inches falling overnight Saturday into Sunday and more than 20 since Friday.
If you didn't ski this weekend, you missed out. If you did, you don't need me to tell you how good it was. In fact, I skied the two day total of 25 inches at Vail on Sunday, and I have to say Vail was on the cusp of being too deep.
A brief lull in the action as we see light showers today, with heavier snow falling by sundown. Expect snow totals in Vail/Beaver Creek to range between 4 to 8 inches with another 2-4 falling during the day Tuesday.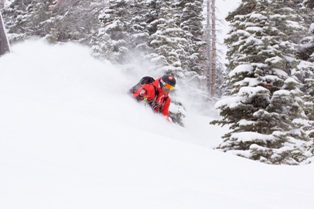 Another quick shot of snow Tuesday, freshening the slopes for Wednesday. A great pattern, as northwest flow will keep bringing cold and rather moist systems every three days for the foreseeable future.
Same forecast for Aspen/Snowmass, with totals a touch lighter; however we should see a small shift next week, bringing more snow to the central and southern mountains. Temps for both resorts will remain seasonable, with on-mountain highs in the low 20s and overnight lows in the teens and single digits. Winds will remain from the northwest with any gusts above timberline reaching 25 mph.
The skiing is fantastic, and for the third time this year I forecast less snow than we received (lucky us). Go enjoy the skiing, as we are in a great cycle and ski legs should now be in shape.
Enjoy!
---

194 Comments on "Mother Nature queen of Colorado"