Drugs keep clouding Colorado, national sports stories
Despite an incredible weekend of competition from the Tour de France to the British Open to Major League Baseball, drugs – both recreational and performance-enhancing – continue to drive the sports news cycle this week.
Britain's Chris Froome dominated the 100th Tour de France and just as skillfully fielded question after question about the legitimacy of his victory, smoking cigars and sipping champagne on his way into Paris and promising his yellow jersey will never be stripped away like those of seven-time Tour "winner" Lance Armstrong.
That's what you like to hear if you're a Colorado cycling fans keeping your fingers crossed that Froome will cross the pond to compete in next month's USA Pro Challenge – with stages in Vail, Aspen and Beaver Creek.
I argued
last week
that cycling truly seems to have cleaned up its act, while America's major professional sports leagues continue to pay lip service to keeping things clean. Then comes news today that the Denver Broncos best defensive player, linebacker Von Miller, will likely miss four games next season for violating the league's drug policy.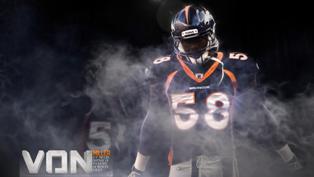 According to the Denver Post, Miller has previously tested positive for marijuana and amphetamines – only one of which could remotely be construed as performance-enhancing for an elite football player. So chalk this one up to stupidity and not cheating. Miller works in a state where weed is legal but still against the rules of the league he plays in.
In baseball, Alex Rodriguez, once one of the most feared hitters in the league, continues his battle to get back on the diamond. But the third baseman who's had a fair amount of surgery here in Vail is damaged goods for more reasons than just his deteriorating physical health and on-field performance. An admitted PED user in the past, Rodriguez is facing a possible suspension for his involvement in the Biogenesis scandal.
All of this somewhat overshadows the positive sports stories from the weekend, namely the remarkable 66 shot by Phil Mickelson to win the British Open on Sunday and deny home-nation hero Lee Westwood and inexplicable crowd favorite Tiger Woods.
Woods, who's heard the PED whispers himself, continues to disappoint in the majors – the only tournaments he says matter – and part of it has to do with his somewhat diminished physical state. He used to be the fittest guy on tour, but now nagging injuries seem to bother him as much as annoying journalists.
Mickelson, on the other hand, is a family man and consistently approachable player – one who's a very good skier and past visitor to Vail and Beaver Creek.
An even better story for golf (and skiing) than Phil's victory would have been a miracle run by Spaniard Miguel Angel Jimenez, who was leading heading into the weekend (despite a broken leg skiing late last year) and would have been the oldest major winner at 49. But the man Rick Reilly called "the most interesting golfer in the world" fell apart on Saturday. So did a lot of other great golfers. Everyone except Lefty.
And if you ever meet the man, you'll agree. He's a hard guy not too like. Woods, on the other hand, despite dating our favorite local ski racer, Lindsey Vonn, still seems to be chased by his inner demons. Americans love a frontrunner and a heavy favorite, but not me. I hate the Yankees, the Lakers and the New England Patriots. Give me the underdog any day.
Which brings me to my Colorado Rockies, who tonight have the opportunity to prove that the Ubaldo Jimenez trade wasn't the dumbest move ever. The prize acquisition in that deal, fifth starter Drew Pomeranz, is hoping the keep the Miami Marlin 37-inning scoreless streak alive at least into the fifth – exacting some small measure of revenge against the fish (a franchise we came into existence with but has won two world titles while we've won squat).
The Rockies were too cheap to lock up Jimenez, who threw the only no-hitter in franchise history, and he hasn't been all that good in Cleveland, but this season he's 7-4, which looks a lot better than the 0-3 record Pomeranz is sporting. A lineup with Jimenez, Jorge de la Rosa, Jhoulys Chacin and Tyler Chatwood – now that might have won the woeful NL West.
As currently constructed, however, I don't give the Rockies much chance to catch the streaking Dodgers and steady Diamondbacks (another recent expansion club with a world title).

Editor's note: After I posted this column, MLB announced former MVP Ryan Braun, also linked to the Biogenesis scandal, has been suspended for the rest of the season. ESPN's Buster Olney said Arizona Diamondbacks players are angry that Braun's Brewers ousted them from the 2011 playoffs. How is that different than Manny Ramirez and the Boston Red Sox eliminating the Rockies in the 2007 World Series?
---

28 Comments on "Drugs keep clouding Colorado, national sports stories"