With Canyons, Vail now offers biggest ski areas in three states on Epic Pass
Canyons Resort outshines nearby neighbors in Park City area
Vail Resorts is adding ski areas to its Epic Pass as fast as Tiger Woods collected girlfriends back in 2009 or President Obama has been gathering second-term scandals this year. But the latest Vail addition, The Canyons Resort near Park City, Utah, is cause for some serious celebration.
For powder pigs living in Colorado's high country or along the state's Front Range, it was nice when Vail earlier this year added Eldora to its season pass. It's close to the state's big cities and for Front Rangers offers a close-in alternative to battling Interstate 70 gridlock or for hitting big upslope storms.
And it was pretty cool when Vail earlier this month added the Arlberg region of Austria to the pass. You never know, a rich uncle may die and leave you an all-expenses-paid European ski vacation, or you could hit your lucky numbers on Powerball.
But The Canyons being added is a big-time boost for soft-snow seekers who know that Utah tends to get significantly more light, dry Rocky Mountain powder than Colorado and that its relatively affordable resorts are within reasonable drive time (six hours or so).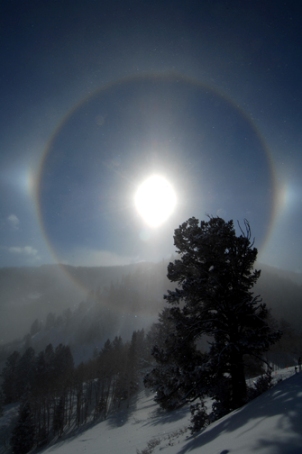 If you don't know much about The Canyons, I didn't either until I went there during the 2006-07 ski season, right before Vail Resorts tried to acquire it from American Skiing Company. In the end, the massive resort went to a Canadian company called Talisker, which Vail promptly sued. Now they're playing nice and entering into an operating agreement, although litigation over land development still lingers.
Since college I've been making the occasional pilgrimage to Utah to ski the Little Cottonwood and Big Cottonwood Canyon ski areas of Alta, Snowbird, Brighton and Solitude, never really spending much time in the Park City area, which includes Deer Valley, Park City and The Canyons.
That trip back in 2006, my friend Dan Davis and I checked out Deer Valley, The Canyons and a little bit of Park City as one leg of the famed Interconnect that links all of the state's great resorts with some minimal guided backcountry skiing. We also got in some heli-skiing with Wasatch Powderbird Guides out of Snowbird and Ruby Mountain in Nevada.
In recognition of Vail's addition of The Canyons to the Epic Pass, here's a re-post of a story I wrote after our ski day there seven years ago:
Canyons a hidden gem on Park City side of the Wasatch
THE CANYONS, Utah (January, 2007) -- It was already 10 a.m., and as my friend Dan Davis and I unsteadily boarded the cabriolet people mover (a sort of open-air gondola) at the Canyons Resort near Park City, Utah, we had already violated a slew of rules critical to the survival of serious powder poachers.
First off, even though it was snowing hard the night before, we'd stayed up way too late drinking, shooting pool and loudly pontificating on world problems in our plush three-bedroom ResortQuest condo overlooking the slopes of Deer Valley. Then we got to the Canyons too late to hook up with our guides for the day, a group of local riders and videographers we planned to shoot some stills with.
By the time we woozily dragged our gear onto the cabriolet, those guys had already headed straight into the then-new expansion terrain called DreamCatcher, which incidentally will see even more glading for the coming ski season.
Guideless, hung over and exploring a new mountain for the first time after a 10-inch dump, we were utterly clueless about our destination. Should we try to catch up with our ski models? Should just pick a point on the trail map and hope for the best? Or should we just bag it all and head into the lodge for a big breakfast?
It was mid January last ski season (2006-07) and Davis and I had had an inauspicious beginning to a week-long ski junket to Utah. The first day we'd spent poking around the trees at Deer Valley, enjoying ourselves but not overwhelmed by anything you'd remotely deem epic.
Then we tried to catch some World Cup freestyle aerial action that evening under the lights but had been driven inside by mind-numbingly cold temperatures. Utah was in the midst of one of its lowest snow years in recent memory but at least the frigid air was keeping what little snow there was fresh and smoky.
Then we started getting the phone calls from friends back home in the Vail Valley. It seems the storm that had largely missed Utah, dumping a mere (by Utah standards) seven inches at Deer Valley, had plastered Vail and Beaver Creek with up to two feet of snow. Our buddies were making sure we knew exactly what we had missed.
Our consolation prize? A 10-inch powder day at The Canyons the next day, but as I've mentioned, we were already blowing it. We decided to take the man's way out, pick the nastiest looking point on the map (even if it was already skied out) and try to redeem ourselves with something steep and at least somewhat deep.
We settled on the Ninety-nine Nine Express lift and headed straight for it. By the time we got to the top terminal (at 9,990 feet) patrol was just opening the backcountry access gate, and suddenly, all was right with the world.
High in the Wasatch Mountains, with Big Cottonwood Canyon (home to Solitude and Brighton ski areas) yawning expansively to the north, we were awed by the backcountry possibilities. We opted for about a 20 minute hike east along the ridge, snapping some nice scenics along the way before diving into an unnamed (on the trail map anyway) bowl that feeds back into the ski area. Our reward was 40 or 50 fresh turns in an open, moderately steep bowl,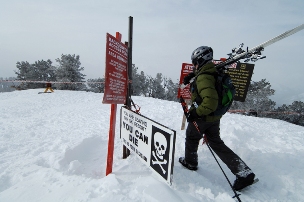 Utah is more renowned than Colorado for its backcountry leniency, basically putting up gates warning you of the possibility of death or dismemberment and letting you be as stupid as you want to be. When I later mentioned the sweet backcountry turns out the gate off of Ninety-nine Ninety to a resort spokeswoman, I could almost hear her grinding her teeth over the phone.
Acknowledging backcountry opportunities is not something one does "in the litigious society that we live in today," admitted Canyons spokeswoman Elizabeth Dowd. "You get the family of four from Illinois going back there and you can have problems."
True, just because you rode a lift to get there should not absolve you of responsibility. Dan and I proceeded with caution even though the bowls opening up off of Ninety-nine Ninety appeared to have been skied fairly hard all year, packing out a seemingly solid base.
We had such a nice run we cycled back around for another hike, and while things were getting fairly tracked up the second time around, it was still worth the effort. Then it was off to the new DreamCatcher area in hopes of hooking up with the film crew and ski models.
We never found them but we did discover some very worthy tree shots in the beautifully gladed new terrain lower on the mountain. It opened for the 2006-07 season with a new high-speed quad chairlift and more than 200 acres of tree skiing, and they're clearing even more room for turns this season.
In the end, powder day transgressions aside, we wound up with a very solid day on a surprisingly challenging mountain. We had expected the meat of our trip to come later in the week in Little Cottonwood Canyon at the legendary areas of Alta and Snowbird.
"It's a hidden gem," Dowd said of the Canyons. "It's here, the locals know about it, but a lot of destination skiers don't know enough about us. Even the Alta-Bird snobs, if you could just get them to come here for one day and show them around Ninety-nine Ninety, it's almost comparable. Alta-Bird is another situation, but we certainly have enough of a buffet for the extreme skier to be able to fill their day."
As Dan and I wearily loaded our gear onto the cabriolet that afternoon, the sun sinking and the temperatures plummeting, we definitely had to agree.
---

18 Comments on "With Canyons, Vail now offers biggest ski areas in three states on Epic Pass"