Rockies need to get real about rivalry with Giants
I absolutely loathe the San Francisco Giants. There, I've said it, and now I feel much better.
A lot of it has to do with how good they are, the fact they've won two of the last three World Series titles, and that they've done it with stellar pitching and a patchwork lineup of scrappy position players.
All of those things should add up to liking a team – and I do respect what they've accomplished – but I will always despise the orange and black. Mostly because they've absolutely owned the purple and black the last few years.
So nothing could have been sweeter than the Colorado Rockies taking three of four from the Giants at Coors Field over the weekend. And it should have been a four-game sweep if our "ace" pitcher, Jhoulys Chacin, hadn't gagged on a 6-0 lead in the opener against Matt Cain.
Actually, something could be sweeter. The Rockies could sustain their brief success against the Giants and win their first ever National League West Division title. There's hardly any room to gloat when all Saturday's win did was snap a 10-game losing streak to the Giants. Their series win merely snapped a 10-series losing skid to the Bay Area bullies.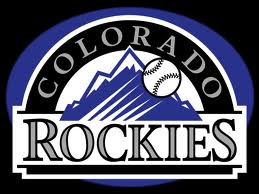 Hard to have a rivalry when it's so one-sided. Kind of like another Bay Area team – the Oakland Raiders – still claiming a rivalry against the Denver Broncos. You sort of need to win one once in a while, or contend for a championship within the last couple of decades, to claim any sort of relevancy in a division rivalry.
The Rockies have at least been in a World Series in the last decade (my hatred for the Giants is only surpassed by my disgust for what the Boston Roid Sox did to us in the '07 Series), and they've been in the playoffs within the last five years. But since then things have been bleak.
I am a diehard Rockies fan, one who used to attend Denver Bears and Zephyrs minor league games, lived in Denver and voted for the original stadium tax, attended the first home game at old Mile High Stadium in the press box and interviewed Andres Galarraga and others in the locker room after the game.
My blood starts boiling when all the transplants from other states fill our stadium to cheer on their former teams. Your state sucked so bad you had to move here, but our baseball team isn't good enough for you?
As a kid I grew up in the D.C. area cheering for the Orioles after the second coming of the Senators left town, but I would never back Baltimore in an interleague series with Colorado. And I will always despise the Yankees and the Red Sox.
So in 20 years since that first game at Mile High, the Rockies have only made the postseason three times. That's the way baseball is. You go for decades without contending for the big one. But when you have a chance you should grab it with both hands and not let go.
It's May 21 and the Rockies are just two games out of first place. This time last year they were already 12 games back. Time to get serious.
When I watched the broadcast Monday night, I saw another young pitching stud stymie Colorado at home (Arizona's Patrick Corbin) while the Rockies tried to squeeze a couple more years out of some has-been golden oldie (Jon Garland).
Meanwhile, owner Dick Monfort canoodled with the TV broadcasters and touted his latest investment, the Press Club. He basically pumped a ton of money into the old press box (which no longer had any journalists in it because of the collapse of the newspaper industry) and turned it into yet another high-end method of sucking money out of the wallets of a gullible fan base.
How about putting some of the gelt into some quality young pitching, the way the Giants have been doing it for the last five years? Then you won't have to go out and comb the waiver wires for guys like Jamie Moyer and Jon Garland, Dick.
And please leave Jeff Francis on the DL and call up Drew Pomeranz. Let's see if the Rockies really got anything in the Ubaldo Jimenez trade or if it was just another Dan O'Dowd special like the Jeremy Guthrie debacle last season.
Finally, if guys are going hit below .250 and play suspect defense (Josh Rutledge), they need to know there are hungry players in triple A or even on the squad (D.J. LeMahieu) ready to step in right now.
After suffering through a team record 98 losses last season, the time is now for the Rockies to show us they're serious about more than just remodeling the stadium our taxes paid for 18 years ago. And way past time to show the Giants we're more than just wannabe rivals.
---

42 Comments on "Rockies need to get real about rivalry with Giants"