Vail pasted with surprise powder day
Editor's update on Friday, Feb. 1: So Vail this morning reported 6 new, with 1 overnight and 27 inches in the last week. On Thursday, Jan. 31, Vail reported 9 new (4 overnight), so that's just 9 inches on Thursday. Those numbers don't quite add up to what I skied on Thursday (maybe it just seemed deeper because we've been so snow-starved of late).
Opensnow
does a good job of explaining what happened, saying that a lot of it had to do with wind-loading. Suffice to say, it was really good on Thursday. Still, Vail has had just 140 inches season to date and averages 350, so we need more than 200 inches just to reach average totals. That could happen in February, March and April -- typically our snowiest months. Stay tuned.
Original post on Thursday, Jan. 31: It was absolutely sick out there on Vail Mountain Thursday – by far the best day since the now legendary season of 2010-11.
Vail only reported 9 inches at 5:30 a.m. (just 4 overnight), but it must have snowed 8-10 inches between then and when I got on Gondola One at 9 a.m., because there was a legit foot and half to two feet in the Back Bowls.
It's been a long time since I've straight-lined Widge's with powder piling up over my thighs and into face while I'm trying to simultaneously laugh, yell and breathe. But that was my first run this morning. Followed by Wow, Headwall, Genghis, Genghis, Genghis, Over Yonder and a frontsider back to reality (Zot to Arena to Spruce Face to International ... sorry Lindsey).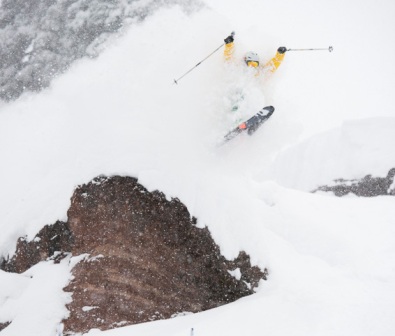 That's about 14,500 vertical and a whole new perspective on a ski season that was only slightly outperforming the high and dry and highly forgettable 2011-12 season until now. Since last Thursday Vail has been hit with what has to be more than 30 inches of new snow, although officially they were only claiming 23 in the last seven days after under-reporting with 9 on Thursday. That will be updated significantly with Friday's report.
There were comments like "best run ever," "never skied anything that good before," and "I've been waiting for that for two seasons" being thrown around in the lift lines on Thursday. And there's no question this was a game-changer.
It came after an 8-inch quasi-powder day on Tuesday, when I punished myself with 17 lift rides and nearly 27,000 vert. That's what pent-up powder aggression can do to you.
The lack of snow since Christmas was glaring, especially after such a dry November. Good snow in December turned things around quite a bit, but then it got dry again in January. And we're still way below average annual snowfall amounts, but the last week has gone a long way toward once again turning around another sub-par season. Was it really only two seasons ago that Vail broke its all-time snowfall record with 525 inches? Seems like a lifetime ago.
Meteorologist ski writer
Joel Gratz actually called
for the snow to wind down around sunrise Thursday, which is about when the snow machine really kicked into high gear in Vail, but he did accurately predict it would be the best day of the season so far – and there's no doubt he nailed that forecast.
Now it looks like things get sunny and warm for the weekend and into next week, with the next storm heading in toward the middle or end of next week. Let's all hope that pans out and we don't drop back into another three-week dry cycle. Those, frankly, suck. And nothing sucked about the skiing this week at Vail. You might even say it was epic.
---

41 Comments on "Vail pasted with surprise powder day"