With powder on its way, Vonn opts to skip Levi, stay in Vail
Breck opens Friday as major storm moves into state
Clearly, Vail's Lindsey Vonn is not heeding my advice (and really, why would she?) about going for the single-season World Cup victory record in 2012-13.
In an opinion piece for the Vail Business Journal on Monday I first roughed up the International Ski Federation (FIS) for not allowing Vonn to take on men in a World Cup event, mostly because a bunch of stodgy old European guys are a pretty easy target.
But then I made the case Vonn needs to get a win at Aspen on Nov. 24-25 instead of skipping the only women's World Cup race in the United States every year in favor of racing against men in Canada. Then I went on to say she also needs to shatter every women's record and leave no doubt that she's the best female ski racer of all-time (yes, there is still room for debate) before focusing on male records.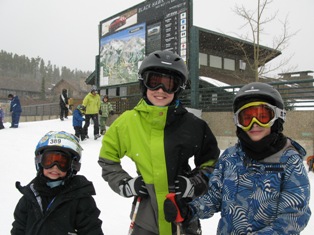 The single-season victory mark by a man or a woman is 14 by Switzerland's Vreni Schneider in 1988-89. She literally won just about every slalom and giant slalom race contested that season. Easy for me to say, but Vonn – given her nearly maniacal training regimen – could do something similar in the speed events of super G and downhill.
But she'd also likely need a couple of GS or slalom wins. That's where slalom races in Levi, Finland this weekend could have come in handy. Vonn has actually won there before (one of only two career slalom wins out of an American record 53 victories overall). Vonn won the GS last season at Soelden, Austria, but failed to finish her second run there to open this season.
So she's already behind the power curve on the tech events. And now comes word that Vonn, along with fellow Olympic gold medalist Julia Mancuso, will skip Levi this weekend "in order to focus on the Nov. 24-25 Nature Valley Aspen Winternational in Aspen," according to the U.S. Ski Team.
Can't really blame her. I've talked to Vonn about Levi in the past, and she says it's a pain to fly from Soelden back home for training, then back to Europe to race and then home again for Aspen. And she is, after all, training here in Vail and "focusing on Aspen," where Vonn has never been on a podium (top 3).
Instead, Eagle-Vail's Mikaela Shiffrin will be the standard-bearer for the U.S. squad in Levi.
"I've had a really good preparation period for slalom with great training in Mt. Hood, New Zealand and at Soelden," Shiffrin said in a release. "I think a good part of that is because I'm very goal oriented when it comes to training. But when I get to the race, I have to let those goals out of my mind and just focus on skiing well between every gate."
Ted Ligety, who won the opening GS at Soelden last month by a huge margin, will see how he stacks up in slalom so far this young season. Bode Miller is skipping the race while he continues to recover from knee surgery in Vail last spring.
The Levi races were cancelled last season because of warm temperatures that hampered snowmaking. We know all about that in Colorado the last couple of weeks since our last blast of natural snow. It's been a classic Indian summer with temps in the mid-60s and ideal for golf down-valley and mountain biking all over.
That's all about to change on Friday with a major winter storm zeroing in on the state and promising up to two feet of new snow in the San Juan Mountains of southern Colorado. That will likely get Wolf Creek up and running for the season after pushing back its Nov. 2 opening day. For the northern and central mountains along the Interstate 70 corridor and north, snow totals will be a little less impressive.
Still, Breck, which opens Friday, is supposed to get 2-4 inches Friday night, another 2-4 Saturday and yet another 2-4 on Sunday, according to Opensnow.com. Check out Breck's website for all the opening-week festivities and early season deals.
Similar snowfall totals are expected for Vail, which doesn't open until Friday, Nov. 16. The much lower temperatures will obviously be a lot better for quality snowmaking there and at Beaver Creek, which opens Wednesday, Nov. 21, but has been trying to lay down a base for the Birds of Prey men's World Cup Nov. 30-Dec. 2.
---

6 Comments on "With powder on its way, Vonn opts to skip Levi, stay in Vail"