Armstrong still mum on USADA report as cycling tries to move on
As of Sunday morning, Lance Armstrong was still silent on the United States Anti-Doping Agency (USADA) "Reasoned Decision" released on Wednesday. The mountain of evidence, including testimony from 11 former teammates, paints Armstrong as the leader of a doping ring that won seven Tour de France titles.
Two of those former teammates – Levi Leipheimer and Christian Vande Velde – are the
past two winners
of the USA Pro Challenge cycling tour that drew huge crowds in Vail, Beaver Creek and all over the state the last two summers. Neither rider is suspected of doping during the USAPC.
Most damning perhaps was the testimony of George Hincapie, Armstrong's right-hand man who rode with him on all seven "victorious" Tour teams. Widely respected in the sport, Hincapie retired after the most recent USA Pro Challenge in August.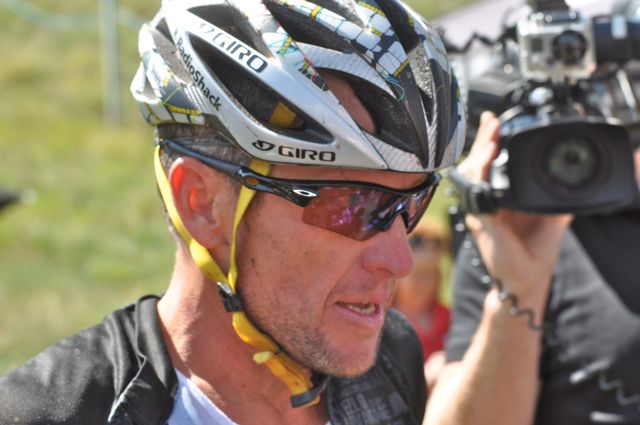 This tweet from Vail Resorts CEO Rob Katz succinctly sums up how a lot of people feel about Armstrong, who announced in August he would no longer fight USADA charges, although he refused to admit guilt.
"Very disappointed that Lance is leaving George Hincapie out there alone today," Katz
tweeted
on Wednesday. "It's over. Come clean. Begin the healing."
Probably because if he admits guilt he'll be sued endlessly by sponsors and race organizers to recoup prize money and sponsorship dollars, Armstrong is still only reacting to the USADA report through his attorneys. The closest Armstrong came to saying anything about the situation is this
tweet
on Wednesday: "What am I doing tonight? Hanging with my family, unaffected, and thinking about this:"
He then
linked
to his cancer-fighting Livestrong foundation's website and a press release with the following headline: "The Lance Armstrong Foundation Celebrates 15 Years of Serving People Affected by Cancer With Special Events October 18-21."
That, clearly, is Armstrong's short-term defense. I've done so much good for fellow cancer survivors that it doesn't matter what I did as a professional cyclist.
One of his lawyers, Tim Herman,
told a radio program
that Armstrong might take a lie detector test, although he added that all 26 witnesses cited in the USADA report – including Armstrong's 11 former teammates – should also be tested. Still, he admitted most people had already made up their minds before the USADA report.
People I
interviewed in Aspen
last August, when Armstrong raced in a mountain bike event during the USA Pro Challenge, didn't seem to care too much about whether or not he doped. Aspen Mayor Mick Ireland just hoped Livestrong wouldn't be adversely impacted.
The record books from 1999-2005 will apparently be altered. The USADA stripped Armstrong of his seven Tour titles, and Tour organizers say they won't name new winners (since many of the riders on down the result sheet have also either admitted to cheating or been found guilty).
There was a real sense of turning a page at the end of this year's USA Pro Challenge – a passing of the baton from the old school of dirty cycling to a new, far cleaner future for the sport.
Even though Vande Velde
won the overall tour
, Boulder's Taylor Phinney, 22, won the final stage of the USA Pro Challenge in Denver. Clearly, the son of two former Olympic cycling medalists is the future of the sport in Colorado – and perhaps nationally and internationally after finishing fourth twice at the 2012 London Olympics.
On Saturday, he
tweeted
about a
stage victory
by BMC Racing Steven Cummings in the Tour of Beijing:
"I love to see @StevoCummings win. He, like me, follows his own personal policy of no caffeine pills and no painkillers. Purest of the pure!"
It appears riders like Phinney and Cummings now have a choice about taking EPO and performance enhancing drugs. They did back in Armstrong's heyday as well, but
that choice
, apparently, was, "Cheat or get out of the way."
---

27 Comments on "Armstrong still mum on USADA report as cycling tries to move on"